Japanese defense officials are searching for a fighter jet off the coast of Aomori Prefecture, northern Japan. They lost contact while it was on a training mission.
Japanese Defense Minister Takeshi Iwaya said, "At around 19:27 Tuesday, an F-35A from the Air Self-Defense Force Misawa air base lost radar contact 135 kilometers east of the coast during training."
Iwaya said the one pilot on board is missing. Officials say the jet was flying with three other planes of the same model, and there were no reports of problems before contact was lost.
The Self-Defense Forces and the Coast Guard have dispatched patrol aircraft and ships to search for the jet.
The F-35 was jointly developed by the United States and eight other countries. Its stealth capabilities make it difficult to detect by radar.
Thirteen F-35As are currently based at Misawa Air Base. It's set to become Japan's next-generation mainstay fighter.
Iwaya says the other 12 jets will be grounded for the time being.
Feb 27
The Japanese government is stepping up its protective measures, with a proposed pause on large public gatherings.
(NHK)
Feb 26
Japan's government has decided on a basic policy for measures to protect against a domestic outbreak of the new coronavirus. It includes asking people with minor symptoms to recuperate at home, in order to secure adequate care at medical facilities for those who are seriously ill.
(NHK)
Feb 26
Japan will launch a review by the end of June aimed at tightening conditions for the export of coal-fired power plants, Environment Minister Shinjiro Koizumi said on Tuesday.
(Japan Today)
Feb 25
Japan's government has drafted a basic policy on the coronavirus in a bid to stem the number of new cases.
(NHK)
Feb 21
A Japanese infection control expert removed YouTube videos Thursday in which he criticized the handling of the coronavirus outbreak on the Diamond Princess cruise ship quarantined in Yokohama, saying the situation had improved.
(Japan Today)
Feb 17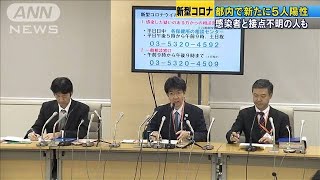 The coronavirus outbreak remains at an initial stage in Japan, an expert panel under the health ministry said Sunday, choosing not to raise the country's alert level that would have allowed for a more aggressive response.
(Nikkei)
Feb 17
The approval rate for Prime Minister Shinzo Abe's Cabinet stands at 41.0 percent, a Kyodo News survey showed Sunday, down 8.3 points from the previous poll in January and marking the sharpest fall in nearly two years amid yet another cronyism scandal.
(Kyodo)
Feb 17
The ruling Liberal Democratic Party submitted an amendment to the Diet in January to expand the "widow's deduction" covering single parents who have never been married.
(Japan Times)
Feb 14
The Japanese government has launched a 136-million-dollar package to fight the coronavirus outbreak. It includes funds for the development of a vaccine and treatment for the illness caused by the virus.
(NHK)
Feb 13
A Japanese lawmaker who has been indicted for accepting bribes in connection with a government-led integrated resort project has been released on bail.
(NHK)
---