Masayoshi Son is often called Japan's Warren Buffett. It is a useful comparison as the SoftBank billionaire scours the globe for value investments, and, as with Buffett, some of his choices leave observers perplexed.
News that Son lost $130 million of personal money on bitcoin is now Exhibit A of this phenomenon. As The Wall Street Journal reported last week, the Sage of Tokyo bought the digital currency in late 2017 just as it was peaking near $20,000. He then reportedly dumped bitcoin in early 2018 as prices nose-dived (since then it has recovered to about $5,100).
The story raised a couple of intriguing questions. Who, for example, leaked this embarrassing loss and why? It comes, after all, as investors question the $100 billion SoftBank Vision Fund's bets on Uber, WeWork and other potentially overvalued Silicon Valley unicorns.
The bigger quandary is how a savvy investor who says "I think I'm better than others at sniffing out things that will bear fruit in 10 or 20 years, while they're still at the seed stage" got caught up in cryptocurrency mania?
The answer may have more to do with bitcoin than Son. It is an asset that can seem more pyramid scheme than store of value.
Son is in risk-on mode. The Buffett-like halo investors bestow on him stems from his $20 million bet on an obscure Chinese startup in 2000. The juggernaut that Son helped finance was Alibaba, and his investment was worth $50 billion when that company went public in 2014.
The SoftBank founder is trying to strike gold again. His giant wagers on ride-hailing startups like Southeast Asia's Grab and America's Uber seem part of a strategy of hope. Son needs another big win to keep the Saudi benefactors, who back his funds, happy and writing those multibillion-dollar checks.
Aug 21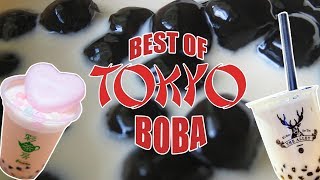 Japan's current bubble tea craze has sent tapioca imports soaring to meet the demand for the drink made with cold milk and tapioca balls.
(Asahi)
Aug 21
Japan has approved shipments of a high-tech material to South Korea for the second time since imposing export curbs last month, two sources told Reuters news agency, ahead of talks between government officials this week to resolve a bitter dispute stemming from their wartime past.
(aljazeera.com)
Aug 21
Up to 3.41 million people, accounting for about 5 percent of Japan's total labor force, are estimated to be working as freelancers, according to a recent survey conducted by the government.
(Japan Times)
Aug 18
Japan will tighten control over foreign investments in domestic companies involved in semiconductors and other high-tech industries by focusing on the purchase of shares that carry voting rights, Nikkei learned Saturday.
(Nikkei)
Aug 10
LCD maker Japan Display has escaped immediate bankruptcy by lining up 80 billion yen ($758 million) in aid from Chinese investors, but the company remains dogged by uncertainty over the long-delayed rescue.
(Nikkei)
Aug 10
Japan's economy grew at a faster-than-expected clip in the second quarter, official data showed on Friday, helped by celebrations to usher in a new imperial era.
(Japan Today)
Aug 10
Earnings season in Japan is highlighting a recent plunge in inbound spending and its impact on drugstore chains, cosmetics makers and department stores previously favored by big-spending Chinese tourists.
(Nikkei)
Aug 09
To much of the world Japan is the home of video games.
(newsonjapan.com)
Aug 08
Japan Post Bank appears set to place a limit on over-the-counter international cash transfers to better address money laundering.
(NHK)
Aug 07
A government panel decided Tuesday to end Saturday delivery for standard mail to deal with a labor shortage at Japan Post Co and a drop in demand due to increased use of the internet.
(Japan Today)
---