Tokyo police have arrested a man in his 50s in connection with knives left on the school desk of Prince Hisahito, the grandson of Emperor Akihito.
The police say they arrested 56-year-old Kaoru Hasegawa on Monday in Hiratsuka City, west of Tokyo, on suspicion of trespassing at the school. They say he admits the charge.
Last Friday, two knives attached to a stick were found on the prince's desk at Ochanomizu University Junior High School in Tokyo's Bunkyo Ward. The prince is a student at the school.
The police say surveillance cameras captured images of a man in a bluish work suit and wearing a helmet. He reportedly entered the school posing as a construction worker.
Surveillance cameras at a subway station also captured an image of a man fitting the description. Investigators had been on the lookout for him. They will now try to determine his motive.
秋篠宮ご夫妻の長男・悠仁さまの中学校の机に刃物が置かれているのが見つかった事件で、警視庁は56歳の男を建造物侵入の疑いで逮捕しました。 職業不詳の自称・長谷川薫容疑者は26日午前11時ごろ、東京・文京区のお茶の水女子大学付属中学校の敷地内に侵入した疑いが持たれています。
May 26
Temperatures rose across Japan on Saturday to highs usually not seen until the height of summer, causing hundreds of people to be taken to hospitals and prompting the weather agency to issue heatstroke warnings.
(Japan Today)
May 26
Japan's top trade negotiator with the United States has said both sides continue to differ on negotiations for a trade deal, adding that they need to work further to narrow the gap.
(NHK)
May 25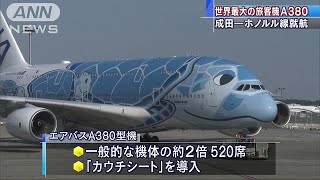 All Nippon Airways debuted flights of a double-decker Airbus A380 from Narita Airport north of Tokyo, bound for Hawaii on Friday.
(NHK)
May 24
Many parts of Japan saw the mercury top 30 degrees Celsius on Thursday. Weather officials are warning of unseasonal high temperatures over the weekend.
(NHK)
May 23
Kyoto Prefectural Police have arrested a 23-year-old male Australian national who is suspected of scrawling graffiti in dozens of locations in Kyoto City, reports Fuji News Network (May 22).
(tokyoreporter.com)
May 23
The International Olympic Committee says boxing is set to maintain its place in the 2020 Tokyo Games, but that the sport's international association should be excluded from organizing the events due to a number of problems.
(NHK)
May 23
Junnosuke Taguchi, a former member of Japanese boy band KAT-TUN, was arrested Wednesday on suspicion of possessing marijuana, the Narcotics Control Department said.
(Japan Times)
May 22
Tokyo DisneySea has begun its largest expansion project ever.
(NHK)
May 22
A Japanese government committee has decided on the route of a parade scheduled for October to celebrate the enthronement of Emperor Naruhito.
(NHK)
May 22
The Supreme Court and other legal professionals in Japan have hosted a symposium to mark the tenth anniversary of the introduction of the country's lay judge system.
(NHK)
---