Tokyo's busy Shibuya district has decided to ban drinking alcohol on some streets during the Halloween season, officials said Monday.
The prohibition applying to outdoor areas around Shibuya Station will be introduced possibly this fall following a number of incidents last year, including the overturning of a small truck that led to the arrests of several men in their 20s.
A total of more than 300,000 people, mostly aged from their late teens to their 30s, joined by both Japanese and foreigners clad in costumes, crowded around Shibuya's iconic scramble crossing on Halloween last Oct. 31 and the weekend prior, according to Tokyo police.
A panel was set up by Shibuya Ward to discuss what to do with escalating pranks in public spaces in the district, one of the capital's major entertainment areas, during the annual celebration, which started to become popular in Japan in the 2000s.
路上での飲酒禁止を盛り込んだ条例制定を目指します。 東京の渋谷駅周辺では去年、ハロウィーン前の週末に軽トラックが横転させられたり、飲酒などによるトラブルが相次ぎました。
May 26
Temperatures rose across Japan on Saturday to highs usually not seen until the height of summer, causing hundreds of people to be taken to hospitals and prompting the weather agency to issue heatstroke warnings.
(Japan Today)
May 26
Japan's top trade negotiator with the United States has said both sides continue to differ on negotiations for a trade deal, adding that they need to work further to narrow the gap.
(NHK)
May 26
US President Donald Trump is scheduled to spend a full day with Prime Minister Shinzo Abe on Sunday, ahead of their summit on Monday.
(NHK)
May 26
In sumo, rank-and-file wrestler Asanoyama has clinched his first tournament title.
(NHK)
May 25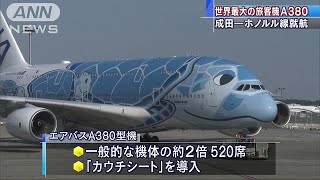 All Nippon Airways debuted flights of a double-decker Airbus A380 from Narita Airport north of Tokyo, bound for Hawaii on Friday.
(NHK)
May 24
The government will no longer use the term "lifelong singles" as a label for people who have not married by age 50, deeming the term inaccurate as Japanese are increasingly tying the knot later in life, officials said Thursday.
(Japan Today)
May 24
Many parts of Japan saw the mercury top 30 degrees Celsius on Thursday. Weather officials are warning of unseasonal high temperatures over the weekend.
(NHK)
May 24
Police in Japan are stepping up security for an upcoming visit by US President Donald Trump.
(NHK)
May 24
Japan's new supercomputer Fugaku is set to begin operations around 2021 with the country aiming to regain the title of building the world's fastest computer, replacing its current supercomputer K, government-backed research institute Riken said Thursday.
(Japan Times)
May 23
Kyoto Prefectural Police have arrested a 23-year-old male Australian national who is suspected of scrawling graffiti in dozens of locations in Kyoto City, reports Fuji News Network (May 22).
(tokyoreporter.com)
---