Imagine you are a Chinese tourist visiting Japan for the first time. Your travels take you to Osaka and the 40-story Umeda Sky Building, with its fine views of the city. After awhile, you look for the exit and are confronted with the following sign in Chinese: "Ni tui chu." ("You get out of here.")
That is just what happened back in January, touching off a small uproar on Chinese social media. "Don't they respect the Chinese language?" commented one outraged netizen.
When it comes to signage meant to help visitors from abroad, Japan is kinder than many countries, putting up signs in many public places, often in multiple foreign languages. Unfortunately, the messages sometimes go awry. Blame the garbled communications on online translation services and software, and a failure to run the final product by someone who actually understands the language.
Not only do poorly translated signs leave overseas tourists giggling or scratching their heads, they can sometimes cause offense, leaving international travelers ill-disposed toward their hosts -- hardly what Japan, which is keen to grow its tourism industry, wants to do.
The company that manages the building in Osaka was at first blissfully unaware of the gaffe, which was produced by a machine translation of a Japanese sign that said: "Okaeri guchi," or "Way out."
"The mistranslation used Chinese characters that mean "exit" in Japanese, so we hadn't the slightest idea that anything was wrong. It came as a shock when we realized what it meant [in Chinese]," said an abashed company spokesman.
Sadly, examples of such well-intentioned messages going haywire are not uncommon in Japan. Tokyo Metro, which operates a subway network in the city, also discovered that posters it put up in stations to warn passengers about a safety hazard were no help at all. The message in Chinese read: "It is dangerous to disperse the focus of your attention while walking." What Tokyo Metro wanted to say was: "Do not operate electronic devices while walking." Somehow the Chinese translation left the gadgets out entirely.
Aug 22
With the Rugby World Cup kicking off Sept. 20 in Japan, communities across the country are preparing for the 500,000-plus visitors expected to attend.
(Nikkei)
Aug 22
A Shinkansen bullet train made an emergency stop after one of its doors opened while speeding through northeastern Japan.
(NHK)
Aug 22
The number of South Korean tourists visiting Japan fell last month to its lowest in nearly a year as visitors canceled travel plans amid deteriorating relations between the neighbors, Japanese government data showed on Wednesday.
(Japan Times)
Aug 22
Japan's two largest opposition parties said Tuesday they will form a joint group in both houses of the Diet in an attempt to challenge the ruling bloc's dominance.
(Japan Today)
Aug 22
Tokyo Metropolitan Police have arrested a 50-year-old man over the alleged abduction of a middle school girl in order to molest her last month, reports TBS News (Aug. 21).
(tokyoreporter.com)
Aug 22
It has always been a mystery why Summer Sonic is not held in the relative cool of June or July, but at the very height of summer, when the August sun beats down upon the festival's outdoor stages or typhoons power through the country, threatening disruption and cancellations to the event's packed schedule.
(Japan Times)
Aug 21
Korean Air says it will suspend more flights from South Korea to Japan, due to lower travel demand amid worsening bilateral ties between the two countries.
(NHK)
Aug 21
Immigration authorities revoked a record 832 visas in 2018, more than double the figure of a year earlier, Justice Ministry data showed Monday.
(Japan Times)
Aug 21
Japan's Prince Hisahito has paid a courtesy call on the King and Queen of Bhutan.
(NHK)
Aug 21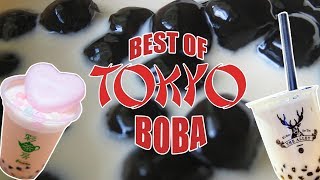 Japan's current bubble tea craze has sent tapioca imports soaring to meet the demand for the drink made with cold milk and tapioca balls.
(Asahi)
---