It's a spring morning as seven food trucks pitch up by an office building in Ginza, where a few curious workers are already nosing around for lunch options. Run by husband-and-wife duo Naoya and Rieko Shibutani, the Pieni Kissa van is a big hit and queues quickly form to take advantage of its best-selling taco rice.
"Food trucks can be run at a relatively low cost," says Naoya, passing a steaming parcel to a hungry-looking salaryman. "We cannot afford to open a restaurant in Ginza but we can serve people here."
The Shibutanis' business is one of many on the books at Mellow, a food and technology startup that's helping Tokyo's nascent food truck scene get into gear. For a start, Mellow's database of what's sold and where has proved a useful resource for these entrepreneurs and many like them. "With the sales data we can have a good idea how much food we need to prep to minimize waste," says Naoya.
By noon the trickle of office workers has become a flood and longer queues are forming. Shodai Kawabe, 29, is busy doling out portions of lasagna and risotto from his green Subaru truck, while nearby Takako Tsumura is serving an aromatic south Indian curry. Popular fast-serving chefs can sell as many as 280 meals in a two-and-a-half-hour lunch service.
Eating on the go is big business all around the world, but in Tokyo it traditionally has been associated with poor food and bad manners. Mellow wants to change this, and is working with property developers to offer small-scale food entrepreneurs a chance to get their businesses motoring. What's more, these battalions of "kitchen cars," as they're known in Japan, are tempting the lunch crowd away from bricks-and-mortar alternatives in favor of colorful takes on vegan bento boxes, Okinawan taco rice and falafel.
Mellow's main sell is that it connects independent food trucks with places to park and building owners. The company was set up in 2016 but the co-founder, Masayoshi Ishizawa, has been in the business since the early 2000s. "Passionate food-truck owners are so attractive [to nearby businesses]," says Ishizawa. "Our purpose was to build a business platform for them." If you're a building owner, this rotating army of food trucks visits from Monday to Friday and plays a key part in keeping the workers in surrounding buildings happy.
Aug 21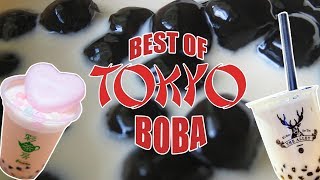 Japan's current bubble tea craze has sent tapioca imports soaring to meet the demand for the drink made with cold milk and tapioca balls.
(Asahi)
Aug 21
Japan has approved shipments of a high-tech material to South Korea for the second time since imposing export curbs last month, two sources told Reuters news agency, ahead of talks between government officials this week to resolve a bitter dispute stemming from their wartime past.
(aljazeera.com)
Aug 21
Up to 3.41 million people, accounting for about 5 percent of Japan's total labor force, are estimated to be working as freelancers, according to a recent survey conducted by the government.
(Japan Times)
Aug 18
Japan will tighten control over foreign investments in domestic companies involved in semiconductors and other high-tech industries by focusing on the purchase of shares that carry voting rights, Nikkei learned Saturday.
(Nikkei)
Aug 10
LCD maker Japan Display has escaped immediate bankruptcy by lining up 80 billion yen ($758 million) in aid from Chinese investors, but the company remains dogged by uncertainty over the long-delayed rescue.
(Nikkei)
Aug 10
Japan's economy grew at a faster-than-expected clip in the second quarter, official data showed on Friday, helped by celebrations to usher in a new imperial era.
(Japan Today)
Aug 10
Earnings season in Japan is highlighting a recent plunge in inbound spending and its impact on drugstore chains, cosmetics makers and department stores previously favored by big-spending Chinese tourists.
(Nikkei)
Aug 09
To much of the world Japan is the home of video games.
(newsonjapan.com)
Aug 08
Japan Post Bank appears set to place a limit on over-the-counter international cash transfers to better address money laundering.
(NHK)
Aug 07
A government panel decided Tuesday to end Saturday delivery for standard mail to deal with a labor shortage at Japan Post Co and a drop in demand due to increased use of the internet.
(Japan Today)
---