The U.S. Marines in Okinawa said Wednesday that a piece of rubber tape attached to a wing blade of a U.S. military helicopter fell onto the grounds of a junior high school in Okinawa the previous day.
It was the latest incident involving a part falling from a military aircraft in the southern island prefecture, which hosts the bulk of U.S. forces in Japan. No one was injured in the latest incident.
The rubber blade tape, which landed in a tennis court at Uranishi junior high school Tuesday afternoon, was initially described by school officials as a black rubber sheet around 12 centimeters long, about 18 cm wide and weighing 20 grams.
A helicopter flew over the school immediately after the rubber piece landed, but it was not immediately clear whether the piece was from that chopper, according to a local official.
The U.S. Marine Corps told Kyodo News that the rubber tape is used to protect the tip of a CH-53E large transport helicopter wing blade, adding it will inspect its helicopters and replace blade tape where necessary.
The Okinawa prefectural government criticized the U.S. military for what it called "insufficient maintenance."
Jun 03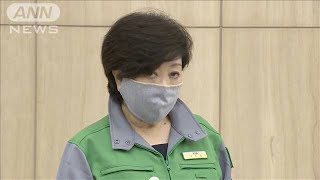 Officials in Tokyo have issued an alert after confirming the highest daily tally of coronavirus infections in weeks.
(NHK)
Jun 03
Japan's Prime Minister Abe Shinzo has effectively given up on plans to change the start of the nation's school year from April to September.
(NHK)
Jun 03
A hearing at a Tokyo court was suspended for hours on Tuesday after defense lawyers refused to wear face masks.
(NHK)
Jun 03
Japan approved Tuesday a PCR coronavirus test using saliva, which is much safer and easier compared with the currently dominant method, which collects mucus from the back part of the nose.
(Japan Times)
Jun 03
Experts in Japan are calling on people to use face masks cautiously in the summer when the risk of heatstroke increases.
(NHK)
Jun 02
Japan is considering easing entry bans on people from four Asia-Pacific countries where coronavirus infections are now apparently under control.
(NHK)
Jun 02
Regulations to protect workers in Japan from abusive bosses and colleagues took effect Monday to criticism that it only provides a road map to desk-bound bullies.
(Nikkei)
Jun 02
Many tourist spots across Japan reopened Monday, a week after the full lifting of a state of emergency, with precautions in place against the novel coronavirus amid growing concern over a second wave of infections.
(Kyodo)
Jun 02
Universal Studios Japan will reopen its doors on June 8 to annual ticket holders who live in Osaka Prefecture after being closed for around three months due to the coronavirus pandemic, the operator said Monday.
(Japan Times)
Jun 01
Japan's government is asking people to continue taking preventative measures against the coronavirus after a renewed surge in cases in the southwestern city of Kitakyushu.
(NHK)
---