Japan is bringing in more foreign workers to help address a labor shortage, and the government wants to make sure Tokyo and other major cities are not the only places that benefit from the additional manpower.
The government has introduced a policy package aimed at getting an expected wave of foreign workers to understaffed businesses in rural areas. Japan plans to accept 340,000 workers from overseas over five years under a new visa program.
The country is suffering a labor crunch in sectors like construction, hospitality and nursing care. The problem is particularly acute in the countryside as more workers leave for the higher wages in Tokyo and other cities.
Under the new proposals, local governments and Hello Work public job-placement offices will work together to help short-handed small local companies hire foreign workers. The central government will also provide financial support to local governments that are helping nursing care services employ foreign caregivers.
The measures come in response to feedback from industry organizations and local administrations, many of which worried that only companies in major cities would be able to take advantage of the expected influx of foreign workers.
The policy proposals also aim to tackle longstanding problems in the "technical intern training program," which has been criticized for labor law violations, including nonpayment of wages. The government now wants companies that hire foreign workers to pay their wages into their bank accounts.
The government presented the new measures to a conference of ministries and agencies on Monday. It will be formalized by a group of cabinet ministers and included in the government's main economic plan that will be revealed in late June. The measures will be funded in the budget for the fiscal year that begins next April.
The new policy package also features measures aimed at making life a bit easier for newly arriving foreign workers.
An existing system that provides subsidies for local governments with counseling services for foreign workers will be expanded, and a new integrated information service for foreign workers will be established. Various government organizations will also see their services integrated into new one-stop centers.
As a part of the effort to clean up the technical intern program -- which for years served as a backdoor for companies to make use of unskilled foreign workers -- employers will have to pay wages directly employees' bank accounts and submit payrolls to authorities.
Sep 20
A Japanese district court has found all three former executives of Tokyo Electric Power Company not guilty in the only criminal prosecution stemming from the 2011 nuclear disaster in Fukushima.
(NHK)
Sep 20
E-commerce giant Amazon Japan has announced it will launch a locker delivery service called Amazon Hub at the major convenience store chain FamilyMart and train stations along the Odakyu line.
(Japan Today)
Sep 18
Toyota Motor Corp. rolled out a new model of the Corolla on Tuesday, making it the first fully redesigned sedan in about seven years.
(Kyodo)
Sep 18
The Japanese government is considering tighter restrictions on foreign investment in industries it sees as key to national security, such as nuclear power and chipmaking.
(Nikkei)
Sep 13
Yahoo Japan's acquisition of online fashion retailer Zozo presents an opportunity for the venerable internet services company to bring fresh blood into its e-commerce audience as the business looks to step outside the shadow of Amazon.com and Rakuten.
(Nikkei)
Sep 11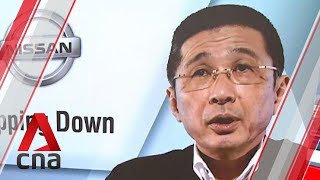 In Japan, is there one standard of justice for Japanese executives and another for non-Japanese executives? The forced resignation on Monday of Nissan Motor Co.'s chief executive officer, Hiroto Saikawa, certainly seems to suggest as much.
(Bloomberg)
Sep 11
Japan's real gross domestic product retreated 0.5% in July compared with the previous month as rising imports led to negative external demand, the Japan Center for Economic Research reported Wednesday.
(Nikkei)
Sep 10
The month between World Suicide Prevention Day on September 10 and World Mental Health Day on October 10 is a good time to start considering the under-discussed topics of anxiety, depression and suicide in our society, especially as they relate to the workplace.
(Nikkei)
Sep 10
Nissan Chief Executive Hiroto Saikawa tendered his resignation Monday after acknowledging that he had received dubious income and vowed to pass the leadership of the Japanese automaker to a new generation.
(Japan Today)
Sep 10
日本にはラスベガスやマカオにあるような本格的カジノはありませんが、最近では本格的に遊べるオンラインカジノが増えつつあります。
(newsonjapan.com)
---