More than 60 percent of women in Japan have experienced the enforcement rules calling for the wearing of heels in the workplace or while job-hunting, or have witnessed others being forced to wear them, according to a survey conducted by a Japanese business website, which also reported the findings Tuesday to a Diet discussion.
The survey was conducted by Business Insider Japan, which questioned 207 individuals about workplace dress codes, including 184 women. More than 80 percent of the female respondents said they had suffered health problems as a result of wearing heels, while a quarter was informed during seminars on workplace behavior that wearing them was considered basic etiquette.
Tuesday's discussions were held between a group fighting against the enforcement of rules on wearing heels in the workplace, members of the labor ministry and other organizations as well as lawmakers. They exchanged viewpoints on confronting and eliminating gender-based workplace discrimination.
"I believe we've realized that some of the social conventions we take for granted are wrong," Constitutional Democratic Party of Japan member Kanako Otsuji said.
"Let's raise our voices together. Change will not occur if we remain silent," she continued.
Tuesday's talks come after Health, Labor and Welfare Minister Takumi Nemoto said he would not support a drive to ban dress codes that force women to wear high heels at work, citing how the shoes were "generally accepted by society" as "necessary and reasonable."
Sep 20
A Japanese district court has found all three former executives of Tokyo Electric Power Company not guilty in the only criminal prosecution stemming from the 2011 nuclear disaster in Fukushima.
(NHK)
Sep 20
E-commerce giant Amazon Japan has announced it will launch a locker delivery service called Amazon Hub at the major convenience store chain FamilyMart and train stations along the Odakyu line.
(Japan Today)
Sep 18
Toyota Motor Corp. rolled out a new model of the Corolla on Tuesday, making it the first fully redesigned sedan in about seven years.
(Kyodo)
Sep 18
The Japanese government is considering tighter restrictions on foreign investment in industries it sees as key to national security, such as nuclear power and chipmaking.
(Nikkei)
Sep 13
Yahoo Japan's acquisition of online fashion retailer Zozo presents an opportunity for the venerable internet services company to bring fresh blood into its e-commerce audience as the business looks to step outside the shadow of Amazon.com and Rakuten.
(Nikkei)
Sep 11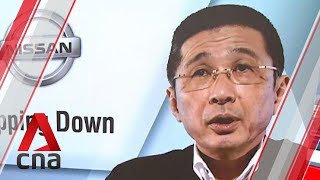 In Japan, is there one standard of justice for Japanese executives and another for non-Japanese executives? The forced resignation on Monday of Nissan Motor Co.'s chief executive officer, Hiroto Saikawa, certainly seems to suggest as much.
(Bloomberg)
Sep 11
Japan's real gross domestic product retreated 0.5% in July compared with the previous month as rising imports led to negative external demand, the Japan Center for Economic Research reported Wednesday.
(Nikkei)
Sep 10
The month between World Suicide Prevention Day on September 10 and World Mental Health Day on October 10 is a good time to start considering the under-discussed topics of anxiety, depression and suicide in our society, especially as they relate to the workplace.
(Nikkei)
Sep 10
Nissan Chief Executive Hiroto Saikawa tendered his resignation Monday after acknowledging that he had received dubious income and vowed to pass the leadership of the Japanese automaker to a new generation.
(Japan Today)
Sep 10
日本にはラスベガスやマカオにあるような本格的カジノはありませんが、最近では本格的に遊べるオンラインカジノが増えつつあります。
(newsonjapan.com)
---