An OECD survey shows that teachers in Japan are the busiest in the world, mainly due to time spent on extracurricular activities.
The Organisation for Economic Co-operation and Development conducts an international study on teachers and school leaders every five years.
Forty eight countries and regions were surveyed last year. About 7,000 elementary and junior high school teachers in Japan took part.
The results show that Japanese junior high school teachers had the most weekly working hours at 56, against an average of 38.3.
Japanese teachers spent around as much time teaching as those of other countries and regions, at 18 hours.
But they spent 7.5 hours, or four times the average, on extracurricular activities. Japanese teachers also spent twice the average time on paperwork.
Kentaro Sugiura of Japan's National Institute for Educational Policy Research says Japanese teachers tend to spend a lot of time on work other than teaching.
He says the range of teachers' responsibilities vary by country, and that some teachers abroad are well assisted by supporting staff.
Sugiura suggests that Japan promote work-style reforms and help teachers gain confidence in their teaching.
Dec 04
A welfare ministry panel said Tuesday that forcing children to sit extensively in the formal Japanese style known as seiza will be recognized as a morally unacceptable form of punishment under a new law that will enter into force next April.
(Japan Today)
Dec 04
Japanese students ranked at their lowest level ever in reading while remaining in the top band in science and mathematics in a triennial international survey on academic ability, the OECD said Tuesday.
(Japan Times)
Dec 03
A group of university students is calling for the elimination of sexual harassment by recruiters and other company workers during their job-hunting activities.
(Japan Times)
Dec 02
Stronger penalties for drivers using mobile phones behind the wheel took effect in Japan on Sunday in the wake of an outcry from families who lost loved ones in traffic accidents caused by such drivers.
(Japan Today)
Dec 02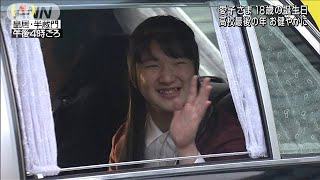 Princess Aiko, the only child of Emperor Naruhito and Empress Masako, turned 18 on Sunday, enjoying her last year in high school as she prepares to move on for further studies at university starting next spring.
(Kyodo)
Dec 01
Slurping down a steaming hot bowl of ramen is a great way to warm the soul on a cold winter's day but overindulging in the dish could prove deadly, a British medical paper has warned.
(Japan Times)
Nov 30
In a country famous for the longevity of its inhabitants - this year Japan's population of people age 100 or over topped 70,000 for the first time - Aomori Prefecture is an outlier.
(Japan Times)
Nov 30
Japan's revised guidelines for tackling child poverty call for more detailed analysis to provide "seamless support" for struggling families.
(NHK)
Nov 29
A government panel has approved a plan to limit the scope for what constitutes illegal downloads of all copyrighted works -- including manga, computer games and literary writings -- reversing its initial plan to restrict wide-ranging online actions.
(Japan Today)
Nov 28
People spending long hours at gaming have a tendency to experience adverse effects at school or work and develop physical or mental problems, a Japanese national health institute's survey showed Wednesday.
(Japan Today)
---