Spectators at the 2020 Tokyo Olympic and Paralympic Games may be allowed to bring their own bottled drinks into event venues, marking a major departure from past security procedures, organizers indicated Thursday.
The proposed step is among a raft of countermeasures outlined by the local organizing committee to protect the health of visitors, volunteers and athletes who may experience extreme heat and humidity during Tokyo's summer.
Other measures include patrols of venues by staff with first-aid training, as well as the installation of "cool spots" for spectators that provide shade and cooling fans.
Ticketholders have been prevented from carrying liquids into past Olympic and other major sporting event venues due to anti-terrorism concerns, as well as to uphold commercial arrangements with sponsors.
Tokyo Games organizers will still consider safety issues and the branding rights of major sponsors, including Coca-Cola Co, in formulating rules on the use of drink bottles, according to Tokyo 2020 Games delivery officer Hidemasa Nakamura.
Sep 20
An online streaming service designed for the more than 400,000 overseas visitors expected here over the next two months for the Rugby World Cup was launched this week by J SPORTS, one of the three broadcast rights holders in Japan.
(Japan Times)
Sep 18
Japan may be ready to host a "spectacular Rugby World Cup," but serious questions remained Tuesday as to what impact it will have on the nation, particularly with the Tokyo Olympics just a year away.
(Kyodo)
Sep 16
In Major League Baseball, former Seattle Mariner player Ichiro Suzuki has made his first public farewell since his retirement at the team's home stadium. The Japanese baseball superstar expressed his gratitude to his fans in English.
(NHK)
Sep 15
Two octopuses predicted Friday that Japan will not advance to the knockout stage of the Rugby World Cup, which opens next week.
(Japan Times)
Sep 11
Shoya Nakajima's and Takumi Minamino's first-half goals lead Japan to a 2-0 win away over Myanmar as the Samurai Blue opened their 2022 World Cup qualifying campaign with a victory.
(Japan Times)
Sep 10
Yokozuna Hakuho has withdrawn from the ongoing 15-day Autumn Grand Sumo Tournament with a broken finger, his stablemaster said Monday, following a shock opening-day loss to rank-and-filer Hokutofuji.
(Japan Times)
Sep 08
Japan will enter the Rugby World Cup believing they have made the necessary preparations to achieve their goal of a berth in the quarterfinals, head coach Jamie Joseph said Saturday.
(Kyodo)
Sep 06
South Korean Olympic officials have called on Japan to ban its "rising sun" flag at the 2020 Tokyo Games after claiming it represents a "militaristic and imperial past."
(Japan Today)
Sep 05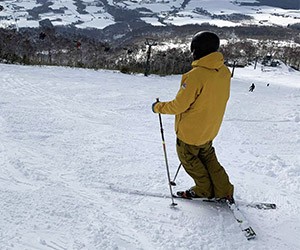 It is not ground breaking news to hear that Japan's ski industry is booming, each winter record levels of international tourism are achieved, driven largely by a growing global awareness and explosion in Asian ski culture.
(newsonjapan.com)
Sep 03
Yokozuna grand champion Hakuho has announced that he has obtained Japanese nationality.
(NHK)
---