Land prices have risen for the fourth straight year, reflecting strong demand in major cities and tourist spots driven by increasing numbers of visitors from overseas and a recovering economy, according to National Tax Agency data released Monday.
Brisk demand for hotels and offices pushed prices up by 1.3 percent on average as of Jan. 1, against a year earlier, but the gap between urban and rural areas continued to widen.
Land prices, mainly in urban areas, reflected a strong appetite for real estate investment and stable housing demand supported by improved employment. The prices are used to calculate inheritance and gift taxes.
Prices climbed in 19 of the 47 prefectures, including Tokyo, which will host the Summer Olympics next year, compared with 18 in the 2017 calender year, the data showed.
However, prices dropped in 27 prefectures and remained flat in Hyogo.
The survey covered about 329,000 sites for calculation of inheritance and gift taxes for 2019.
By prefecture, Okinawa saw the steepest rise of 8.3 percent backed by robust demand for tourism centered on Naha, followed by Tokyo at 4.9 percent and Miyagi, where redevelopment projects have been implemented around Sendai Station, at 4.4 percent.
Land prices in Ishikawa and Oita prefectures rose for the first time in 27 years but stayed flat in 13 prefectural capitals. Tottori was the only capital to see a decline, of 4.5 percent.
The plot in front of the Kyukyodo stationery store in Tokyo's Ginza shopping district was estimated to be worth a record ¥45.6 million per square meter, making it the most expensive piece of land in the country for the 34th straight year.
Sep 20
A Japanese district court has found all three former executives of Tokyo Electric Power Company not guilty in the only criminal prosecution stemming from the 2011 nuclear disaster in Fukushima.
(NHK)
Sep 20
E-commerce giant Amazon Japan has announced it will launch a locker delivery service called Amazon Hub at the major convenience store chain FamilyMart and train stations along the Odakyu line.
(Japan Today)
Sep 18
Toyota Motor Corp. rolled out a new model of the Corolla on Tuesday, making it the first fully redesigned sedan in about seven years.
(Kyodo)
Sep 18
The Japanese government is considering tighter restrictions on foreign investment in industries it sees as key to national security, such as nuclear power and chipmaking.
(Nikkei)
Sep 13
Yahoo Japan's acquisition of online fashion retailer Zozo presents an opportunity for the venerable internet services company to bring fresh blood into its e-commerce audience as the business looks to step outside the shadow of Amazon.com and Rakuten.
(Nikkei)
Sep 11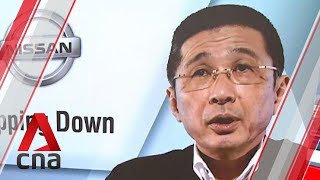 In Japan, is there one standard of justice for Japanese executives and another for non-Japanese executives? The forced resignation on Monday of Nissan Motor Co.'s chief executive officer, Hiroto Saikawa, certainly seems to suggest as much.
(Bloomberg)
Sep 11
Japan's real gross domestic product retreated 0.5% in July compared with the previous month as rising imports led to negative external demand, the Japan Center for Economic Research reported Wednesday.
(Nikkei)
Sep 10
The month between World Suicide Prevention Day on September 10 and World Mental Health Day on October 10 is a good time to start considering the under-discussed topics of anxiety, depression and suicide in our society, especially as they relate to the workplace.
(Nikkei)
Sep 10
Nissan Chief Executive Hiroto Saikawa tendered his resignation Monday after acknowledging that he had received dubious income and vowed to pass the leadership of the Japanese automaker to a new generation.
(Japan Today)
Sep 10
日本にはラスベガスやマカオにあるような本格的カジノはありませんが、最近では本格的に遊べるオンラインカジノが増えつつあります。
(newsonjapan.com)
---