A Japanese policeman stabbed another officer by mistake during training when he used a real knife instead of a replica.
Police in Okayama Prefecture, western Japan said the incident occurred at a police academy last December while rookie officers were undergoing training in how to subdue a knife-wielding criminal.
The instructing officer acting as the criminal was supposed to use a replica but used a real survival knife. He stabbed the trainee in the chest, causing a minor injury.
The officer reportedly told police that he used a real knife to build a feeling of tension. He said he never intended to injure anyone, but stabbed by mistake.
The officer was fined 4,600 dollars by a summary court in April on a charge of professional negligence resulting in injury. He was also reprimanded by the Okayama prefectural police, but the police didn't make the incident public.
The victim left the police force in January and filed a suit against Okayama Prefecture in March, seeking about 50,000 dollars in compensation. Okayama police say they will respond in good faith.
岡山県警察学校で、訓練中に教官の男性警部補が新人の巡査の胸を本物のサバイバルナイフで刺してけがをさせていたことが分かりました。 事件があったのは去年12月10日に行われた刃物を持った犯人を確保するための訓練です。男性教官が説得に応じて模造刀を捨てた後、当時、初任科生だった男性巡査(19)の胸を本物のサバイバルナイフで刺しました。けがをした巡査は病院に搬送されて4日間入院し、今年1月に依願退職しました。男性教官は今年4月、業務上過失傷害の罪で罰金50万円の略式命令を受けました。岡山県警は「誠実に対応していく」とコメントしています。
Jun 03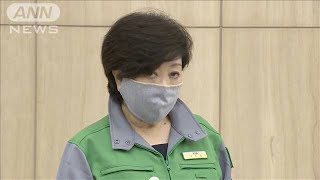 Officials in Tokyo have issued an alert after confirming the highest daily tally of coronavirus infections in weeks.
(NHK)
Jun 03
Japan's Prime Minister Abe Shinzo has effectively given up on plans to change the start of the nation's school year from April to September.
(NHK)
Jun 03
A hearing at a Tokyo court was suspended for hours on Tuesday after defense lawyers refused to wear face masks.
(NHK)
Jun 03
Japan approved Tuesday a PCR coronavirus test using saliva, which is much safer and easier compared with the currently dominant method, which collects mucus from the back part of the nose.
(Japan Times)
Jun 03
Experts in Japan are calling on people to use face masks cautiously in the summer when the risk of heatstroke increases.
(NHK)
Jun 02
Japan is considering easing entry bans on people from four Asia-Pacific countries where coronavirus infections are now apparently under control.
(NHK)
Jun 02
Regulations to protect workers in Japan from abusive bosses and colleagues took effect Monday to criticism that it only provides a road map to desk-bound bullies.
(Nikkei)
Jun 02
Many tourist spots across Japan reopened Monday, a week after the full lifting of a state of emergency, with precautions in place against the novel coronavirus amid growing concern over a second wave of infections.
(Kyodo)
Jun 02
Universal Studios Japan will reopen its doors on June 8 to annual ticket holders who live in Osaka Prefecture after being closed for around three months due to the coronavirus pandemic, the operator said Monday.
(Japan Times)
Jun 01
Japan's government is asking people to continue taking preventative measures against the coronavirus after a renewed surge in cases in the southwestern city of Kitakyushu.
(NHK)
---