The suspect in last week's deadly arson attack on a Kyoto Animation Co. studio may have walked for hours scouting the company headquarters and the nearby area the day before the fire, even bringing gas containers to the site, investigative sources said Tuesday.
Shinji Aoba, 41, who allegedly ignited the blaze that left 34 people dead in the three-story studio building in Kyoto on Thursday, likely bought gasoline containers at a hardware store located 5 kilometers from the studio and transported them in a handcart to the site Wednesday, they said.
The walk could have taken more than an hour as anyone trying to get to the anime studio from the store needs to cross a river and pass through a complex residential area.
Investigators have received eyewitness accounts placing a man resembling the suspect in the area on Wednesday, according to the sources.
Surveillance cameras at the hardware store captured a man believed to be Aoba in a red shirt and blue jeans purchasing the containers the same day.
There is no information indicating he used public transportation afterward, the sources said.
Meanwhile, officials on Monday searched for an explanation as to why a blaze ripped so quickly through the famed animation company's studio, amid reports that smoke spread so fast a majority of the victims who tried to flee through a rooftop door could not open it in time to escape.
In a gruesome reversal, Kyoto police said that of the 26 people whose autopsy results have been released, 20 burned to death, three suffered carbon monoxide poisoning and two suffocated. The cause of death of one was undetermined. Previous reports indicated most were likely killed by smoke.
Nineteen of the dead were found piled on top of each other on a stairway from the third floor to a door leading to the roof, with some early reports suggesting it could not be opened from the inside.
Jun 03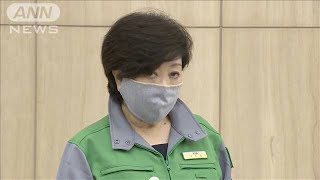 Officials in Tokyo have issued an alert after confirming the highest daily tally of coronavirus infections in weeks.
(NHK)
Jun 03
Japan's Prime Minister Abe Shinzo has effectively given up on plans to change the start of the nation's school year from April to September.
(NHK)
Jun 03
A hearing at a Tokyo court was suspended for hours on Tuesday after defense lawyers refused to wear face masks.
(NHK)
Jun 03
Japan approved Tuesday a PCR coronavirus test using saliva, which is much safer and easier compared with the currently dominant method, which collects mucus from the back part of the nose.
(Japan Times)
Jun 03
Experts in Japan are calling on people to use face masks cautiously in the summer when the risk of heatstroke increases.
(NHK)
Jun 02
Japan is considering easing entry bans on people from four Asia-Pacific countries where coronavirus infections are now apparently under control.
(NHK)
Jun 02
Regulations to protect workers in Japan from abusive bosses and colleagues took effect Monday to criticism that it only provides a road map to desk-bound bullies.
(Nikkei)
Jun 02
Many tourist spots across Japan reopened Monday, a week after the full lifting of a state of emergency, with precautions in place against the novel coronavirus amid growing concern over a second wave of infections.
(Kyodo)
Jun 02
Universal Studios Japan will reopen its doors on June 8 to annual ticket holders who live in Osaka Prefecture after being closed for around three months due to the coronavirus pandemic, the operator said Monday.
(Japan Times)
Jun 01
Japan's government is asking people to continue taking preventative measures against the coronavirus after a renewed surge in cases in the southwestern city of Kitakyushu.
(NHK)
---