Organizers of next year's Tokyo Olympics say they will hold an additional online ticket lottery for more than four million people who came up empty-handed in the first one.
Officials of the event's organizing committee on Tuesday say that about 4.16 million people failed to get any tickets in the first round. The winners were announced in June.
Some 5.12 million people applied for the first round, but less than 20 percent of them, or about 960,000 people, won one or more tickets.
Committee officials said the supplementary lottery will be only for those who missed out in the first round.
The officials say many people were disappointed after missing out in the first round and they want to meet requests from as many people as possible.
They said they will accept entries online from early on August 8 to 11:59 a.m. on August 19.
More than 680,000 tickets that were unsold in the first round will be put up for sale. The tickets cover 20 events, including beach volleyball, field hockey and soccer. Tickets for the finals and play-offs will be included.
Each person is eligible to apply for one session of a competition---for up to six tickets for qualifiers and four for medal events. A second choice is available.
Applications will be accepted on the official website for online ticket sales. Lottery results are scheduled to be announced on September 11.
Sep 16
In Major League Baseball, former Seattle Mariner player Ichiro Suzuki has made his first public farewell since his retirement at the team's home stadium. The Japanese baseball superstar expressed his gratitude to his fans in English.
(NHK)
Sep 15
Two octopuses predicted Friday that Japan will not advance to the knockout stage of the Rugby World Cup, which opens next week.
(Japan Times)
Sep 11
Shoya Nakajima's and Takumi Minamino's first-half goals lead Japan to a 2-0 win away over Myanmar as the Samurai Blue opened their 2022 World Cup qualifying campaign with a victory.
(Japan Times)
Sep 10
Yokozuna Hakuho has withdrawn from the ongoing 15-day Autumn Grand Sumo Tournament with a broken finger, his stablemaster said Monday, following a shock opening-day loss to rank-and-filer Hokutofuji.
(Japan Times)
Sep 08
Japan will enter the Rugby World Cup believing they have made the necessary preparations to achieve their goal of a berth in the quarterfinals, head coach Jamie Joseph said Saturday.
(Kyodo)
Sep 06
South Korean Olympic officials have called on Japan to ban its "rising sun" flag at the 2020 Tokyo Games after claiming it represents a "militaristic and imperial past."
(Japan Today)
Sep 05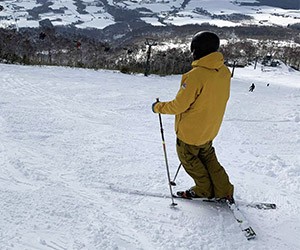 It is not ground breaking news to hear that Japan's ski industry is booming, each winter record levels of international tourism are achieved, driven largely by a growing global awareness and explosion in Asian ski culture.
(newsonjapan.com)
Sep 03
Yokozuna grand champion Hakuho has announced that he has obtained Japanese nationality.
(NHK)
Sep 03
The Japan Olympic Museum will open in Tokyo on September 14. Members of the media were given a preview on Monday.
(NHK)
Sep 03
With the Tokyo Olympics and Paralympics less than a year away, Tokyo police are stepping up efforts to strengthen their foreign language assistance.
(Japan Times)
---