Police have arrested a 30-year-old unemployed man on suspicion of attempted murder after he stabbed a woman in the neck at a Daiso 100-yen store in Tokyo's Hachioji district on Wednesday night.
According to police, the suspect, Yuki Ishino, stabbed a 46-year-old woman shopper in the neck on the second floor of the store at around 6:20 p.m. He used an awl which was on a shelf.
Ishino then went downstairs to the checkout and told the woman at the register that he had just killed someone. Three male employees subdued him until police arrived.
Police quoted Ishino as saying that he wanted to kill someone and the woman just happened to be there.
The woman suffered a serious wound to her neck but was in a stable condition on Thursday.
東京・八王子市の100円ショップで商品のキリを使って40代の女性の首を刺して殺害しようとしたとして、30歳の男が現行犯逮捕されました。 石野勇起容疑者は先月31日午後6時20分ごろ、「ダイソー八王子くぬぎだ店」の2階で商品のキリを使って、買い物をしていた女性(46)の首を刺して殺害しようとした疑いが持たれています。女性は食道を損傷しているものの、命に別状はないということです。警視庁によりますと、石野容疑者は犯行後、1階のレジの女性店員に「人を刺した」と話したということです。石野容疑者は「誰かを殺そうと思って相手を探していたところ、女性客がいたので、キリで一突きして殺そうとした」と容疑を認めています。
Jun 03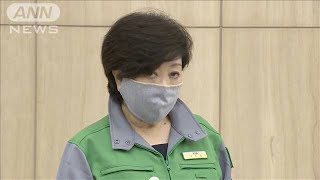 Officials in Tokyo have issued an alert after confirming the highest daily tally of coronavirus infections in weeks.
(NHK)
Jun 03
Japan's Prime Minister Abe Shinzo has effectively given up on plans to change the start of the nation's school year from April to September.
(NHK)
Jun 03
A hearing at a Tokyo court was suspended for hours on Tuesday after defense lawyers refused to wear face masks.
(NHK)
Jun 03
Japan approved Tuesday a PCR coronavirus test using saliva, which is much safer and easier compared with the currently dominant method, which collects mucus from the back part of the nose.
(Japan Times)
Jun 03
Experts in Japan are calling on people to use face masks cautiously in the summer when the risk of heatstroke increases.
(NHK)
Jun 02
Japan is considering easing entry bans on people from four Asia-Pacific countries where coronavirus infections are now apparently under control.
(NHK)
Jun 02
Regulations to protect workers in Japan from abusive bosses and colleagues took effect Monday to criticism that it only provides a road map to desk-bound bullies.
(Nikkei)
Jun 02
Many tourist spots across Japan reopened Monday, a week after the full lifting of a state of emergency, with precautions in place against the novel coronavirus amid growing concern over a second wave of infections.
(Kyodo)
Jun 02
Universal Studios Japan will reopen its doors on June 8 to annual ticket holders who live in Osaka Prefecture after being closed for around three months due to the coronavirus pandemic, the operator said Monday.
(Japan Times)
Jun 01
Japan's government is asking people to continue taking preventative measures against the coronavirus after a renewed surge in cases in the southwestern city of Kitakyushu.
(NHK)
---