Japan's new emperor spoke Thursday (Aug 15) of "deep remorse" over the country's wartime past, in his first speech to commemorate the end of World War II since his enthronement in May.
Emperor Naruhito's comments were being monitored in Tokyo and throughout Asia for any change in tone but he closely echoed the language employed by his father Akihito.
"Looking back on the long peaceful years after the war, reflecting on our past, and bearing in mind the feeling of deep remorse, I earnestly hope that the devastation of war will never be repeated," said the 59-year-old Naruhito.
"During the 74 years since the end of the war, the peace and prosperity of our country today has been built through the tireless efforts of the people.
"Yet when I think of their past full of suffering, I am truly overcome with deep emotion," Naruhito told the solemn ceremony in central Tokyo which also featured a minute's silence for the war dead. Meanwhile, conservative Prime Minister Shinzo Abe shied away from visiting a controversial shrine that commemorates war dead, including convicted war criminals, that has become a flashpoint with Japan's neighbours, especially China and South Korea.
Jul 15
Japan is planning to start letting foreign residents who left the country before April 3 back in, starting in August.
(Nikkei)
Jul 15
People in Tokyo are watching with wary eyes as the latest daily case numbers hover in the mid-100s after topping 200 four days in a row through Sunday.
(NHK)
Jul 15
Torrential rain has devastated parts of Japan. In the western region of Chugoku, thousands of people have been ordered to evacuate after a major river burst its banks. Officials are having a tough time helping the survivors while maintaining anti-COVID measures.
(NHK)
Jul 15
A panel under the justice minister proposed Tuesday establishing criminal penalties for foreign nationals who do not comply with deportation orders as Japan seeks to curb long-term detention of foreigners at immigration facilities.
(Japan Times)
Jul 15
Japan's government is considering whether to request business closures for nightlife establishments that fail to follow its guidelines to prevent the spread of the coronavirus.
(NHK)
Jul 15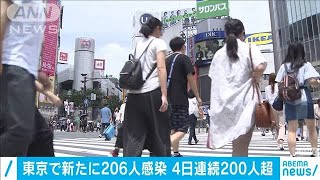 An advisory panel of experts to Japan's health ministry warns that coronavirus infections are continuing to spread throughout the country.
(NHK)
Jul 14
Japanese Prime Minister Abe Shinzo says the government will compile a financial package of more than 3.7 billion dollars to help regions in the southwest and elsewhere left battered by record rainfall.
(NHK)
Jul 14
A fireball that brightened the Tokyo sky earlier this month has been identified as a meteor after fragments were found in a neighboring prefecture, a national science museum said Monday.
(Japan Times)
Jul 14
Heavy rains in the northern part of Japan's Kyushu island are threatening the territory with landslides and flooding.
(NHK)
Jul 13
The new coronavirus infection count has been rising across the nation with more than 200 cases reported in Tokyo on Sunday.
(NHK)
---