Japan's two largest opposition parties said Tuesday they will form a joint group in both houses of the Diet in an attempt to challenge the ruling bloc's dominance.
Constitutional Democratic Party of Japan leader Yukio Edano and Yuichiro Tamaki, who heads the Democratic Party for the People, agreed on the plan during a meeting roughly one month after an upper house election that saw the ruling bloc secure a solid win.
After intraparty procedures are complete, the two parties will step up cooperation from an extraordinary Diet session this fall.
"We are making the first step toward becoming an alternative to the LDP," Tamaki told reporters after the meeting, referring to Prime Minister Shinzo Abe's Liberal Democratic Party.
In Japan, it is customary for each political party to have a parliamentary group in each house of the Diet.
The opposition leaders had held a series of talks to work out a plan since early August when Tamaki expressed his hope of forming a joint parliamentary group to prepare for the next lower house election.
Despite the envisaged formation of a unified parliamentary group in the House of Representatives and the House of Councillors, uncertainty remains over how much the two opposition parties can coordinate their policies.
Feb 17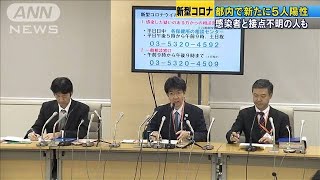 The coronavirus outbreak remains at an initial stage in Japan, an expert panel under the health ministry said Sunday, choosing not to raise the country's alert level that would have allowed for a more aggressive response.
(Nikkei)
Feb 17
The approval rate for Prime Minister Shinzo Abe's Cabinet stands at 41.0 percent, a Kyodo News survey showed Sunday, down 8.3 points from the previous poll in January and marking the sharpest fall in nearly two years amid yet another cronyism scandal.
(Kyodo)
Feb 17
The ruling Liberal Democratic Party submitted an amendment to the Diet in January to expand the "widow's deduction" covering single parents who have never been married.
(Japan Times)
Feb 14
The Japanese government has launched a 136-million-dollar package to fight the coronavirus outbreak. It includes funds for the development of a vaccine and treatment for the illness caused by the virus.
(NHK)
Feb 13
A Japanese lawmaker who has been indicted for accepting bribes in connection with a government-led integrated resort project has been released on bail.
(NHK)
Feb 13
The Japanese government plans to offer subsidies to face mask manufacturers to help them boost their production capacity.
(NHK)
Feb 10
On a chilly January afternoon in Yokohama, a 25-year-old IT company employee said what much of Japan is thinking: "I'm not expecting my salary and the economy to improve much."
(Nikkei)
Feb 09
Japan's Cabinet will approve next week emergency measures against a new coronavirus to strengthen screenings and provide financial support to the tourism industry, a source close to the matter said Saturday.
(Kyodo)
Feb 04
Japanese Prime Minister Shinzo Abe says officials have started developing test kits to detect the new coronavirus in an effort to find infections more swiftly.
(NHK)
Feb 01
Japan's government is facing criticism that its initial response to the outbreak of a deadly coronavirus was too lax, as other countries have taken stronger steps to prevent a spread within their borders.
(Kyodo)
---