Japan's government has announced that ballistic missiles are believed to have been launched from North Korea on Saturday morning.
It says that the missiles are not likely to have entered Japanese territory or its exclusive economic zone.
The Defense Ministry is continuing to gather information.
South Korea's Joint Chiefs of Staff says North Korea launched two projectiles from South Hamgyong Province toward the Sea of Japan on Saturday morning.
The South Korean military is gathering and analyzing detailed information together with the US military.
North Korea has fired projectiles six times over a period of more than three weeks from July 25 to August 16.
But this is the first time that missiles were launched since a US-South Korea joint military exercise ended on Tuesday.
According to Japanese Defense Ministry officials, it is possible that the missile was launched in a different trajectory from the series of short-range ballistic missiles that have been repeatedly launched since May this year.
Feb 17
Americans began leaving a quarantined cruise ship in Japan on Monday to board chartered flights home as the number of new coronavirus cases diagnosed on the vessel jumped to 355.
(Japan Times)
Feb 17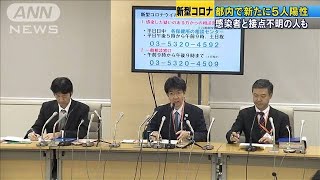 The coronavirus outbreak remains at an initial stage in Japan, an expert panel under the health ministry said Sunday, choosing not to raise the country's alert level that would have allowed for a more aggressive response.
(Nikkei)
Feb 17
As Japan grapples with the expanding new coronavirus outbreak, six more people — five in Tokyo and another in Aichi Prefecture — tested positive Sunday for the deadly virus, local authorities said.
(Japan Times)
Feb 17
Japan invented the zombie company: a once proud and innovative name that has lost its way and staggers from one crisis to another. But has Asia's second biggest economy now created the zombie privatization?
(Nikkei)
Feb 17
The number of new coronavirus infections among passengers and crew of the Diamond Princess cruise ship quarantined near Tokyo has risen by 70 to 355, the government said Sunday, while more domestic cases were also reported and experts warned the situation could worsen.
(Kyodo)
Feb 17
The approval rate for Prime Minister Shinzo Abe's Cabinet stands at 41.0 percent, a Kyodo News survey showed Sunday, down 8.3 points from the previous poll in January and marking the sharpest fall in nearly two years amid yet another cronyism scandal.
(Kyodo)
Feb 17
The ruling Liberal Democratic Party submitted an amendment to the Diet in January to expand the "widow's deduction" covering single parents who have never been married.
(Japan Times)
Feb 16
Health experts confirmed new cases of the coronavirus across Japan on Saturday. The total number of infections is now over 330, including 285 on a quarantined cruise ship.
(NHK)
Feb 16
Health authorities in Japan are hurrying to come up with effective measures to contain the spread of the new coronavirus after they found it hard to track down the infection routes of some cases.
(NHK)
Feb 15
Japan saw several new cases of coronavirus infection reported on Friday, leading health officials to try and establish just how they contracted the virus. The latest cases bring the number of infected people in Japan to 259, including 218 from a cruise ship.
(NHK)
---