Kim Kardashian West's shapewear line Kimono is no more. The new name, changed amid outcry over cultural appropriation, is SKIMS Solutionwear.
The reality star, makeup mogul and law student said on Instagram that she changed the name after much "thought and consideration." Kardashian West told WSJ Magazine back in July her intentions to play off her name with Kimono were "innocent" and she had not anticipated the backlash.
The name Kimono surfaced in June after Kardashian West attempted to trademark it.
Her shapewear line is color and size-inclusive, ranging from XXS to 5XL. Some pieces include side slits in spots Kardashian West said she used to make herself with scissors.
She dropped the Kimono brand name in July following a backlash from people in Japan, including the mayor of Kyoto.
While a number of celebrities and fans expressed their support at the time, Kardashian West's social media accounts received hundreds of replies, many using the hashtag #KimOhNo, expressing distaste for her word choice.
Aug 06
The average summer bonus at major Japanese companies this year dropped 2.17 percent from a year earlier to ¥901,147, a Japan Business Federation survey showed Wednesday.
(Japan Times)
Aug 06
Uber Technologies has begun to offer a food delivery subscription in Japan that replaces per-order fees, tapping into the growing demand from consumers holed up at home from the coronavirus.
(Nikkei)
Aug 05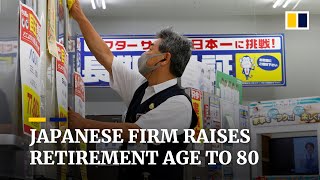 Japan's decision to offer an initial group of 87 companies subsidies totalling US$653 million to expand production at home and in Southeast Asia has sparked debate whether the world's third largest economy is trying to gradually decouple from China.
(scmp.com)
Aug 05
About 60 percent of people in the nation who developed cold-like symptoms during the first wave of the novel coronavirus pandemic, between February and May, went to work despite a request by the government for them not to do so, a recent survey has found.
(Japan Times)
Aug 05
McDonald's Holdings (Japan) has staged a dramatic comeback in the five years since a crisis triggered by food-safety scandals, breaking sales records and thriving on takeout demand in the middle of a pandemic.
(Nikkei)
Aug 04
Nippon Steel decided on Tuesday to immediately appeal a South Korean court ruling that took effect the same day that allows for the seizure of company assets as compensation for wartime labor during Japanese colonial rule.
(Nikkei)
Aug 04
A survey by credit research firm Teikoku Databank shows 400 businesses in Japan have gone under due to the effects of the coronavirus pandemic.
(NHK)
Aug 04
Mitsubishi Motors expects to post a net loss of over 3 billion dollars this fiscal year. But the CEO tells NHK he plans to rebuild the company's business with a focus on Southeast Asia.
(NHK)
Aug 04
Japan Airlines has posted a big net loss for the April-June quarter, as the coronavirus pandemic continues to devastate the global aviation industry.
(NHK)
Aug 04
A major Japanese food chain, Curry House CoCo Ichibanya, on Monday opened a restaurant in India, the home of curry dishes.
(NHK)
---