In banks across Japan sits a pile of money that's bigger than most countries' gross domestic product — the cash reserves of the nation's companies. For some it's a testament to their strength, but to many it's a wasted opportunity.
Firms listed in Japan held ¥506.4 trillion in cash as of their latest filings, the highest level on record, according to data compiled by Bloomberg. It's more than tripled since March 2013, months after Prime Minister Shinzo Abe returned to power vowing to stamp out cash-hoarding.
While companies see the money as a buffer against hard times, it has long riled investors, who say executives should invest it for growth or return it to shareholders. In one of his most lauded policies, Abe has overhauled corporate governance structures, seeking to make firms use capital more productively rather than letting it fester in bank accounts.
It's not that the prime minister's efforts haven't borne fruit. Companies are providing larger returns to shareholders since Abe's government instituted new rules for investors and executives starting in 2014. But Zuhair Khan, head of research at Jefferies Japan Ltd., estimates they're only distributing about 40 percent of profits to stock owners when they could afford to pay out about 70 percent.
"This Scrooge-like situation needs to be fixed," said Naoki Kamiyama, chief strategist at Nikko Asset Management Co. in Tokyo.
The traditional narrative of overly cautious chief executive officers clinging to unnecessarily large amounts of cash no longer tells the whole story, according to Felix Lam, a senior Asia Pacific equities portfolio manager at BNP Paribas SA in Hong Kong. Now, rising cash levels are more a function of increasing profits. Earnings per share at companies in the benchmark Topix index in the second quarter of this year were up 80 percent compared with the three months ended December 2012, data compiled by Bloomberg show.
Sep 21
Toyota Motor has unveiled the first yacht under its Lexus luxury brand, with a 450 million yen ($4.17 million) price tag in Japan that aims it squarely at the super-rich.
(Nikkei)
Sep 20
A Japanese district court has found all three former executives of Tokyo Electric Power Company not guilty in the only criminal prosecution stemming from the 2011 nuclear disaster in Fukushima.
(NHK)
Sep 20
E-commerce giant Amazon Japan has announced it will launch a locker delivery service called Amazon Hub at the major convenience store chain FamilyMart and train stations along the Odakyu line.
(Japan Today)
Sep 18
Toyota Motor Corp. rolled out a new model of the Corolla on Tuesday, making it the first fully redesigned sedan in about seven years.
(Kyodo)
Sep 18
The Japanese government is considering tighter restrictions on foreign investment in industries it sees as key to national security, such as nuclear power and chipmaking.
(Nikkei)
Sep 13
Yahoo Japan's acquisition of online fashion retailer Zozo presents an opportunity for the venerable internet services company to bring fresh blood into its e-commerce audience as the business looks to step outside the shadow of Amazon.com and Rakuten.
(Nikkei)
Sep 11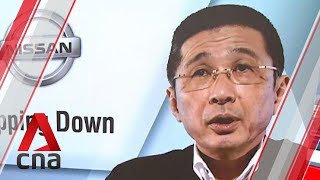 In Japan, is there one standard of justice for Japanese executives and another for non-Japanese executives? The forced resignation on Monday of Nissan Motor Co.'s chief executive officer, Hiroto Saikawa, certainly seems to suggest as much.
(Bloomberg)
Sep 11
Japan's real gross domestic product retreated 0.5% in July compared with the previous month as rising imports led to negative external demand, the Japan Center for Economic Research reported Wednesday.
(Nikkei)
Sep 10
The month between World Suicide Prevention Day on September 10 and World Mental Health Day on October 10 is a good time to start considering the under-discussed topics of anxiety, depression and suicide in our society, especially as they relate to the workplace.
(Nikkei)
Sep 10
Nissan Chief Executive Hiroto Saikawa tendered his resignation Monday after acknowledging that he had received dubious income and vowed to pass the leadership of the Japanese automaker to a new generation.
(Japan Today)
---