Japanese consumers are rushing to buy expensive appliances, clothing and jewelry before the country's consumption tax increase on Oct. 1, retailers say, and the trend portends a drop-off in spending afterward.
At big-box electronics store chain Bic Camera, refrigerator sales climbed about 30% on the year in August.
Large-capacity units are among the best performers ahead of the tax hike, which will raise the rate to 10% from 8%.
Washing machine sales soared 40% in August. Bic Camera's flagship store in Tokyo's Yurakucho district enjoyed a 60% jump in demand for front-loading machines that cost over 200,000 yen ($1,880).
Steering Asia's second-largest economy through the tax hike presents one of the biggest near-term challenges for Prime Minister Shinzo Abe's government.
The government has rolled out incentives for buyers of automobiles and housing to smooth out any wild swings in demand around the tax increase. But for other big-ticket items, it is a race against the clock to score the cheapest price.
Electronics chain Nojima's sales of televisions with organic light-emitting diode displays more than tripled on the year during the past two weeks.
Much of the traffic came from customers looking to replace models that they purchased about a decade ago under the Japanese government's "eco-point" stimulus program, which was meant to offset the economic slowdown following the 2008 global financial crisis.
Sep 21
Toyota Motor has unveiled the first yacht under its Lexus luxury brand, with a 450 million yen ($4.17 million) price tag in Japan that aims it squarely at the super-rich.
(Nikkei)
Sep 20
A Japanese district court has found all three former executives of Tokyo Electric Power Company not guilty in the only criminal prosecution stemming from the 2011 nuclear disaster in Fukushima.
(NHK)
Sep 20
E-commerce giant Amazon Japan has announced it will launch a locker delivery service called Amazon Hub at the major convenience store chain FamilyMart and train stations along the Odakyu line.
(Japan Today)
Sep 18
Toyota Motor Corp. rolled out a new model of the Corolla on Tuesday, making it the first fully redesigned sedan in about seven years.
(Kyodo)
Sep 18
The Japanese government is considering tighter restrictions on foreign investment in industries it sees as key to national security, such as nuclear power and chipmaking.
(Nikkei)
Sep 13
Yahoo Japan's acquisition of online fashion retailer Zozo presents an opportunity for the venerable internet services company to bring fresh blood into its e-commerce audience as the business looks to step outside the shadow of Amazon.com and Rakuten.
(Nikkei)
Sep 11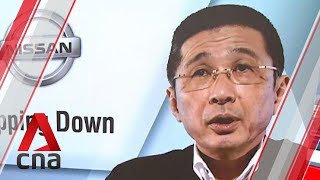 In Japan, is there one standard of justice for Japanese executives and another for non-Japanese executives? The forced resignation on Monday of Nissan Motor Co.'s chief executive officer, Hiroto Saikawa, certainly seems to suggest as much.
(Bloomberg)
Sep 11
Japan's real gross domestic product retreated 0.5% in July compared with the previous month as rising imports led to negative external demand, the Japan Center for Economic Research reported Wednesday.
(Nikkei)
Sep 10
The month between World Suicide Prevention Day on September 10 and World Mental Health Day on October 10 is a good time to start considering the under-discussed topics of anxiety, depression and suicide in our society, especially as they relate to the workplace.
(Nikkei)
Sep 10
Nissan Chief Executive Hiroto Saikawa tendered his resignation Monday after acknowledging that he had received dubious income and vowed to pass the leadership of the Japanese automaker to a new generation.
(Japan Today)
---