New Environment Minister Shinjiro Koizumi, a rising political star in Japan, said Wednesday he will encourage increased innovation in the country in the fight against human-driven climate change.
"Countermeasures against global warming can't work without innovation," the 38-year-old said at a press conference after assuming his first ministerial post in a Cabinet reshuffle. "By dealing with environmental problems, I believe innovations will occur one after another, which will create business opportunities."
To create such a positive cycle, Koizumi called for attracting increased investment to Japan. "I'll fulfill my duty as if I'm not only the environment minister but also the minister in charge of social reforms," he said.
Koizumi, the second son of former Prime Minister Junichiro Koizumi, has been touted as a potential future prime minister and has recently drawn the spotlight for his surprise marriage to TV personality Christel Takigawa.
On Japan's nuclear power plants, many of which remain offline due to strict safety guidelines introduced after the Fukushima nuclear disaster in March 2011, the new minister said, "I would like to study how we will scrap them, not how to retain them."
Feb 21
A Japanese infection control expert removed YouTube videos Thursday in which he criticized the handling of the coronavirus outbreak on the Diamond Princess cruise ship quarantined in Yokohama, saying the situation had improved.
(Japan Today)
Feb 17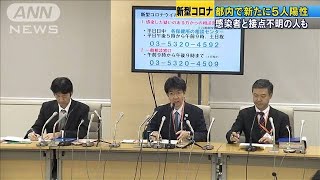 The coronavirus outbreak remains at an initial stage in Japan, an expert panel under the health ministry said Sunday, choosing not to raise the country's alert level that would have allowed for a more aggressive response.
(Nikkei)
Feb 17
The approval rate for Prime Minister Shinzo Abe's Cabinet stands at 41.0 percent, a Kyodo News survey showed Sunday, down 8.3 points from the previous poll in January and marking the sharpest fall in nearly two years amid yet another cronyism scandal.
(Kyodo)
Feb 17
The ruling Liberal Democratic Party submitted an amendment to the Diet in January to expand the "widow's deduction" covering single parents who have never been married.
(Japan Times)
Feb 14
The Japanese government has launched a 136-million-dollar package to fight the coronavirus outbreak. It includes funds for the development of a vaccine and treatment for the illness caused by the virus.
(NHK)
Feb 13
A Japanese lawmaker who has been indicted for accepting bribes in connection with a government-led integrated resort project has been released on bail.
(NHK)
Feb 13
The Japanese government plans to offer subsidies to face mask manufacturers to help them boost their production capacity.
(NHK)
Feb 10
On a chilly January afternoon in Yokohama, a 25-year-old IT company employee said what much of Japan is thinking: "I'm not expecting my salary and the economy to improve much."
(Nikkei)
Feb 09
Japan's Cabinet will approve next week emergency measures against a new coronavirus to strengthen screenings and provide financial support to the tourism industry, a source close to the matter said Saturday.
(Kyodo)
Feb 04
Japanese Prime Minister Shinzo Abe says officials have started developing test kits to detect the new coronavirus in an effort to find infections more swiftly.
(NHK)
---