Police in Yamanashi Prefecture, west of Tokyo, say they will end their large-scale search efforts for a 7-year-old girl who went missing from a camp site last month.
Misaki Ogura, an elementary school first grader from the city of Narita, Chiba Prefecture, disappeared from a campground in the village of Doshi on September 21.
On Sunday, the chief of the local police station announced the termination of large-scale search activities for the girl. He said the police will continue to pursue the case with a focus on information gathering.
No clues have been found so far, despite search efforts by a total of about 1,700 police officers, firefighters and Self-Defense Forces personnel.
山梨県のキャンプ場で行方が分からなくなった小学1年の女の子について、6日に大規模な捜索が打ち切られました。これを受けて母親が心境を語りました。  美咲ちゃんの母親・小倉とも子さん(36):「いまだ靴一つも見つからないような状態で手掛かりが全くありません。親として諦めることはしたくないので、これからも全力で捜索を続けていきたい」  先月21日、山梨県道志村のキャンプ場で小倉美咲ちゃん(7)の行方が分からなくなり、警察や自衛隊など延べ1700人が16日間、捜索してきました。しかし、発見することはできず、大規模な捜索は6日夕方をもって打ち切られました。今後は発見につながる手掛かりを得るために情報収集を続けていくとしています。
Jul 15
Japan is planning to start letting foreign residents who left the country before April 3 back in, starting in August.
(Nikkei)
Jul 15
People in Tokyo are watching with wary eyes as the latest daily case numbers hover in the mid-100s after topping 200 four days in a row through Sunday.
(NHK)
Jul 15
Torrential rain has devastated parts of Japan. In the western region of Chugoku, thousands of people have been ordered to evacuate after a major river burst its banks. Officials are having a tough time helping the survivors while maintaining anti-COVID measures.
(NHK)
Jul 15
A panel under the justice minister proposed Tuesday establishing criminal penalties for foreign nationals who do not comply with deportation orders as Japan seeks to curb long-term detention of foreigners at immigration facilities.
(Japan Times)
Jul 15
Japan's government is considering whether to request business closures for nightlife establishments that fail to follow its guidelines to prevent the spread of the coronavirus.
(NHK)
Jul 15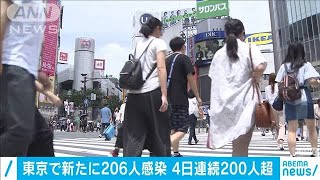 An advisory panel of experts to Japan's health ministry warns that coronavirus infections are continuing to spread throughout the country.
(NHK)
Jul 14
Japanese Prime Minister Abe Shinzo says the government will compile a financial package of more than 3.7 billion dollars to help regions in the southwest and elsewhere left battered by record rainfall.
(NHK)
Jul 14
A fireball that brightened the Tokyo sky earlier this month has been identified as a meteor after fragments were found in a neighboring prefecture, a national science museum said Monday.
(Japan Times)
Jul 14
Heavy rains in the northern part of Japan's Kyushu island are threatening the territory with landslides and flooding.
(NHK)
Jul 13
The new coronavirus infection count has been rising across the nation with more than 200 cases reported in Tokyo on Sunday.
(NHK)
---