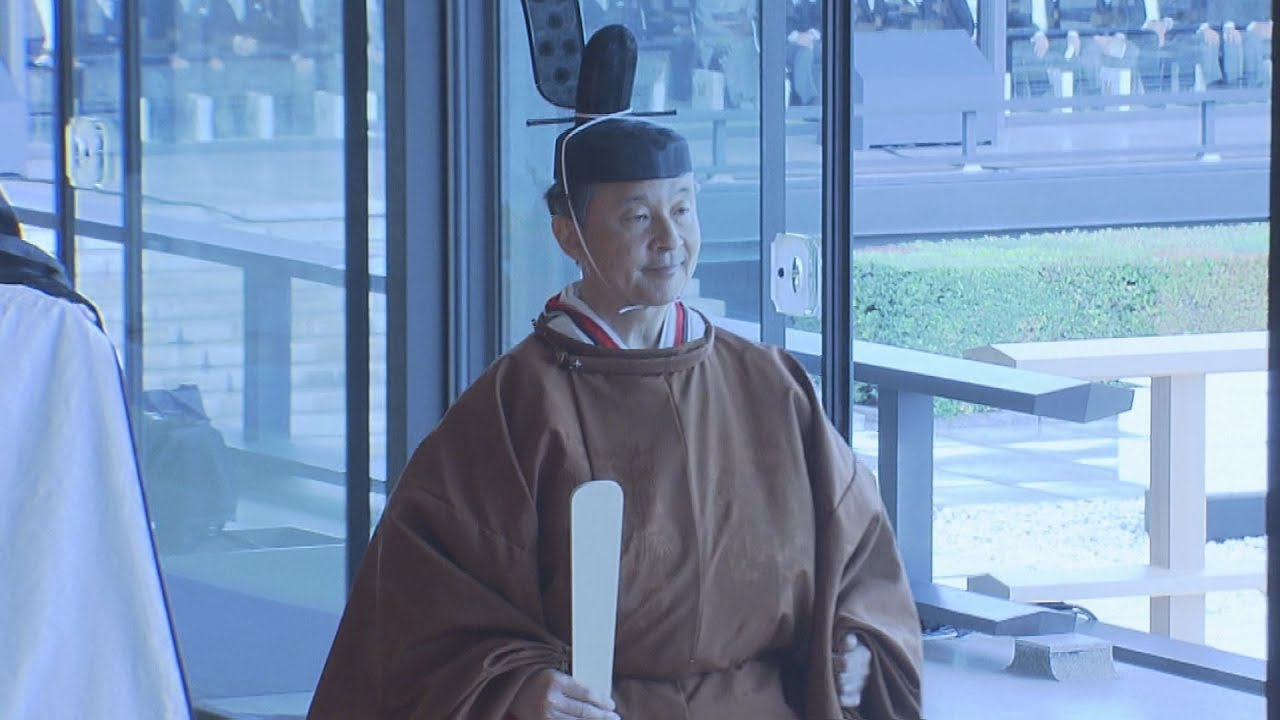 Emperor Naruhito officially declared his enthronement to world representatives on Tuesday in a ceremony that was conducted amid relative peace and calm.
The last time the event was held, three decades ago, extremists fighting against the imperial system carried out multiple terror attacks.
About 2,000 guests from home and abroad attended Tuesday's ceremony, and some 26,000 police officers were mobilized from across Japan — stepping up security checks and traffic controls around the Imperial Palace and other parts of central Tokyo. An anti-terrorist squad was also deployed to keep watch for threats such as drones in the sky.
As of Tuesday afternoon, there had been no reports of major incidents or obstruction. At least one rally against the enthronement ceremony was held inside a building near JR Shinbashi Station shortly after 1 p.m., when the ceremony was being held at the Imperial Palace.
When Emperor Naruhito's father proclaimed his enthronement before about 2,200 guests from home and abroad on Nov. 12, 1990, tensions were higher, however.
From that morning, a spate of violence by radicals opposing the ceremony gripped Tokyo and surrounding prefectures, according to media reports at that time. Some mortars were fired toward the Imperial Palace, and others into Self-Defense Forces bases, and fires sparked by timed incendiary devices destroyed parts of shrines. A separate blaze led to the suspension of train services on the Yamanote and Keihin Tohoku lines, affecting tens of thousands of passengers.
According to a National Police Agency report filed at the time, there were 40 terror attacks in six prefectures, including 34 in Tokyo that day alone, despite the largest deployment of security forces, mostly around the imperial properties.
Thousands of protesters joined demonstrations and rallies across Tokyo to call for "crushing the enthronement ritual," according to the media reports.
Nov 18
Yahoo Japan's parent company, Z Holdings, and major messaging app provider LINE have reached an agreement to merge.
(NHK)
Nov 18
Sources close to the investigation of Japanese actress Erika Sawajiri say she has admitted to using illegal drugs for some time.
(NHK)
Nov 16
South Korean President Moon Jae-in told visiting U.S. Defense Secretary Mark Esper on Friday it is difficult for Seoul to share military intelligence with Japan, while vowing to make continued efforts toward security cooperation among the three countries, according to the presidential Blue House.
(Japan Times)
Nov 16
A popular tourist site on Mount Hakone was reopened Friday, ending a six-month closure caused by an increase in the volcanic alert level in the hot spring resort area, local authorities said.
(Japan Times)
Nov 16
Japan's standardized university entrance exam will test only reading and listening skills for English in the 2020 academic year while placing more emphasis on listening than current exams, the government-backed exam setter said Friday.
(Japan Today)
Nov 15
Japan's Emperor Naruhito has performed the main rite of the Daijosai, or Great Thanksgiving Ceremony, an enthronement ritual performed once in an Emperor's reign.
(NHK)
Nov 15
The suspect in a deadly arson attack on a Kyoto Animation Co studio in July was sent back Thursday to a Kyoto hospital from one in Osaka Prefecture after undergoing multiple skin grafts.
(Japan Today)
Nov 15
Convenience store operator FamilyMart Co said Thursday it will allow its franchise owners across Japan to shorten operating hours from March in a bid to address a severe labor shortage during late-night hours.
(Japan Today)
Nov 14
Japan's space agency says its probe is on its way back to Earth after leaving the asteroid, Ryugu.
(NHK)
Nov 14
Chief Cabinet Secretary Yoshihide Suga says the government will not hold a cherry blossom-viewing party next year, which is hosted every April by the prime minister.
(NHK)
---