As this year marks the fifth anniversary of the education ministry designating Hiroshima University as a "Type A Super Global University," the university has taken major steps to achieve globalization.
The university initially set the objective of being ranked among the top 100 universities in the world, and set up 13 individual goals to achieve that. So far, it has met 12 goals, such as fulfilling the desired number of international students and the number of classes taught in foreign languages.
Making it into the top 100, however, is a difficult goal to achieve. The Chugoku Shimbun has taken a look into the reforms underway at one of Hiroshima University's campuses, in the city of Higashihiroshima.
The Super Global University initiative is an education ministry-led project that supports universities that aim to be ranked among the top 100 educational institutions around the world. Along with 12 other universities, such as the University of Tokyo and Kyoto University, Hiroshima University was awarded the title.
The institutions each drew up plans to get an idea of where they would be following reforms over the 10 years through March 2024, the year the project will come to the end. The 13 universities individually established numerical targets promoting globalization and reforms in their respective personnel affairs systems.
Hiroshima University aims to double the enrollment of international students, from 1,096 as of May 2014 to 2,000. By fiscal 2019, the number increased to 1,979.
Feb 13
The Board of Education in Ikoma City, Nara Prefecture, says that several 8th grade junior high school boys are suspected of voyeuristically filming up the skirts of their female classmates.
(Japan Today)
Feb 12
Japan's Immigration Services Agency is to tighten the screening process for issuing student visas, increasing tenfold the number of countries subject to stricter checks starting with foreign nationals applying from April.
(Nikkei)
Feb 10
Young women in Japan are experiencing serious financial trouble.
(soranews24.com)
Feb 08
An 18-year-old female student has been arrested on suspicion of attempted murder after she stabbed a fellow student with a knife at a high school in Iruma City, Saitama Prefecture,.
(Japan Today)
Feb 06
Amid the growing spread of new coronavirus 2019-nCoV, universities and high schools approaching entrance exam season nationwide are setting out precautions for examinees, including allowing them to wear masks during the tests and reimbursing test fees if an infection prevents them from sitting their exams.
(Japan Times)
Feb 01
The number of foreign workers in Japan totaled 1,658,804 as of October last year, up 13.6 percent from a year earlier and marking the highest level on record, government data showed Friday.
(Japan Times)
Jan 31
Japan will allow more foreign nationals, including those holding short-term visas, to take a skills test from April under the new blue-collar visa program that is aimed at addressing national labor shortages, immigration officials said Thursday.
(Japan Times)
Jan 23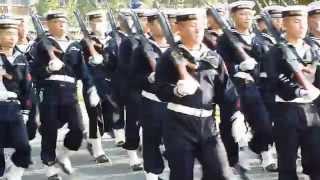 The first female student was admitted to Japan's national naval submarine academy Wednesday after the end of a ban on women on the country's submarines.
(Japan Times)
Jan 22
The Japanese government has decided it will not to give subsidies this fiscal year ending March to a university where a large number of foreign students have gone missing.
(NHK)
Jan 21
Online streaming has been very good for the anime industry, opening flows of revenue both domestic and international by delivering the product to ravenous fans in the fastest manner possible. For a while, though, it looked like Studio Ghibli was going to stick to its "physical media-only" policy until the end of time.
(soranews24.com)
---