Emperor Naruhito and Empress Masako have visited ancestral mausoleums to report the completion of rites signifying the Emperor's enthronement.
The couple arrived at the mausoleum of the legendary first emperor of Japan, Jinmu, on Wednesday morning in the city of Kashihara in Nara Prefecture, western Japan.
The Emperor was dressed in formal attire. He was escorted by senior Imperial Household Agency officials through the torii gates. He slowly walked along the gravel path toward the mausoleum.
The Emperor then offered a sprig from a sacred tree and bowed deeply. The Empress followed suit in a long gray dress.
The couple moved on to the neighboring prefecture of Kyoto in the afternoon. They visited the mausoleum of Emperor Komei, an ancestor from the 1800s.
The Emperor walked to the mausoleum and paid his respects. The Empress followed suit.
The couple is scheduled to spend the night at the ancient capital and visit the mausoleum of Emperor Meiji on Thursday. They will then hold a tea party for representatives of various circles in the Kansai region.
天皇皇后両陛下は27日午前、『親謁(しんえつ)の儀』のため、奈良県橿原市を訪問された。初代天皇とされる神武天皇の陵で、モーニング姿の天皇陛下は玉串を捧げ、深く一礼して拝礼された。その後、参拝用のロングドレスを着た皇后さまも拝礼された。午後、京都市で江戸時代末期の孝明天皇の陵墓を参拝された両陛下は、28日、京都市内にある明治天皇陵の参拝に臨まれる。
Jul 15
Japan is planning to start letting foreign residents who left the country before April 3 back in, starting in August.
(Nikkei)
Jul 15
People in Tokyo are watching with wary eyes as the latest daily case numbers hover in the mid-100s after topping 200 four days in a row through Sunday.
(NHK)
Jul 15
Torrential rain has devastated parts of Japan. In the western region of Chugoku, thousands of people have been ordered to evacuate after a major river burst its banks. Officials are having a tough time helping the survivors while maintaining anti-COVID measures.
(NHK)
Jul 15
A panel under the justice minister proposed Tuesday establishing criminal penalties for foreign nationals who do not comply with deportation orders as Japan seeks to curb long-term detention of foreigners at immigration facilities.
(Japan Times)
Jul 15
Japan's government is considering whether to request business closures for nightlife establishments that fail to follow its guidelines to prevent the spread of the coronavirus.
(NHK)
Jul 15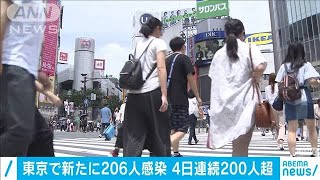 An advisory panel of experts to Japan's health ministry warns that coronavirus infections are continuing to spread throughout the country.
(NHK)
Jul 14
Japanese Prime Minister Abe Shinzo says the government will compile a financial package of more than 3.7 billion dollars to help regions in the southwest and elsewhere left battered by record rainfall.
(NHK)
Jul 14
A fireball that brightened the Tokyo sky earlier this month has been identified as a meteor after fragments were found in a neighboring prefecture, a national science museum said Monday.
(Japan Times)
Jul 14
Heavy rains in the northern part of Japan's Kyushu island are threatening the territory with landslides and flooding.
(NHK)
Jul 13
The new coronavirus infection count has been rising across the nation with more than 200 cases reported in Tokyo on Sunday.
(NHK)
---