A senior member of Japan's largest organized crime syndicate was shot dead Wednesday in Amagasaki, Hyogo Prefecture by a man armed with a submachine gun and a handgun amid a possible gang feud, police said.
Keiichi Furukawa, 59, a high-ranking yakuza of Yamaguchi-gumi, was pronounced dead at a hospital after being shot on a street after 5 p.m.
The suspected assailant fled by minivehicle, but police arrested him in Kyoto city about an hour after the shooting for possessing firearms.
Hisanori Asahina, 52, allegedly possessed a submachine gun and a handgun along with five live bullets when he was arrested. When police officers tried to question him after pulling over his vehicle, Asahina reportedly pointed a handgun at officers.
According to the police, Furukawa and Asahina, an associate of Yamaguchi-gumi, knew each other. The police believe the shooting is linked to ongoing strife between Yamaguchi-gumi and a splinter group, and are investigating it as a murder case.
Furukawa was found lying on his back on the street, bleeding from his abdomen and face. About 10 cartridges were found at the crime scene.
27日夕方、兵庫県尼崎市で神戸山口組の幹部が銃で撃たれて死亡し、山口組関係者とみられる男が京都市内で逮捕されました。  午後5時すぎ、尼崎市で通行人から「入れ墨の入った男性が腕などを撃たれた」と通報がありました。警察によりますと、撃たれたのは神戸山口組の古川恵一幹部(59)で、病院に搬送されましたが腹などを撃たれていて死亡しました。約1時間後に警察は、現場から車で逃走したとみられる朝比奈久徳容疑者(52)を京都市内で逮捕し、拳銃と自動小銃を押収しました。朝比奈容疑者は山口組の関係者とみられていて、警察は山口組と神戸山口組の抗争の可能性があるとみて調べています。
Jul 15
Japan is planning to start letting foreign residents who left the country before April 3 back in, starting in August.
(Nikkei)
Jul 15
People in Tokyo are watching with wary eyes as the latest daily case numbers hover in the mid-100s after topping 200 four days in a row through Sunday.
(NHK)
Jul 15
Torrential rain has devastated parts of Japan. In the western region of Chugoku, thousands of people have been ordered to evacuate after a major river burst its banks. Officials are having a tough time helping the survivors while maintaining anti-COVID measures.
(NHK)
Jul 15
A panel under the justice minister proposed Tuesday establishing criminal penalties for foreign nationals who do not comply with deportation orders as Japan seeks to curb long-term detention of foreigners at immigration facilities.
(Japan Times)
Jul 15
Japan's government is considering whether to request business closures for nightlife establishments that fail to follow its guidelines to prevent the spread of the coronavirus.
(NHK)
Jul 15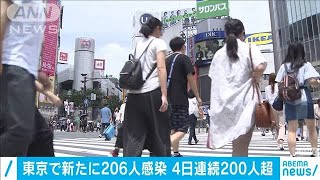 An advisory panel of experts to Japan's health ministry warns that coronavirus infections are continuing to spread throughout the country.
(NHK)
Jul 14
Japanese Prime Minister Abe Shinzo says the government will compile a financial package of more than 3.7 billion dollars to help regions in the southwest and elsewhere left battered by record rainfall.
(NHK)
Jul 14
A fireball that brightened the Tokyo sky earlier this month has been identified as a meteor after fragments were found in a neighboring prefecture, a national science museum said Monday.
(Japan Times)
Jul 14
Heavy rains in the northern part of Japan's Kyushu island are threatening the territory with landslides and flooding.
(NHK)
Jul 13
The new coronavirus infection count has been rising across the nation with more than 200 cases reported in Tokyo on Sunday.
(NHK)
---