The main stadium of the Tokyo 2020 Olympic and Paralympic Games has been completed.
An inspection of the new National Stadium ended at noon on Saturday. It followed the completion of building work in mid-November. Construction began three years ago.
The stadium features traditional Japanese building techniques, and uses timber from all of the country's 47 prefectures.
It comprises three-tiered stands, and has a 60-meter-long partial roof that overhangs about 60,000 seats.
The opening and closing ceremonies for the Games, as well as the athletic events, will be staged at the stadium.
Construction costs came to 152.9 billion yen, or about 1.4 billion dollars, meaning the project came in under the government's budget.
The structure was redesigned after the initial plan was scrapped due to its high projected costs and other factors.
A completion ceremony is scheduled for mid-December, followed by an event to show the stadium to the public.
It will host its first sporting event, the final of the Emperor's Cup soccer, on January 1 next year.
東京オリンピック・パラリンピックのメイン会場になる新しい国立競技場が30日に完成しました。解体から完成までの約5年間を定点カメラの映像で振り返ります。
Jul 15
Japan is planning to start letting foreign residents who left the country before April 3 back in, starting in August.
(Nikkei)
Jul 15
People in Tokyo are watching with wary eyes as the latest daily case numbers hover in the mid-100s after topping 200 four days in a row through Sunday.
(NHK)
Jul 15
Torrential rain has devastated parts of Japan. In the western region of Chugoku, thousands of people have been ordered to evacuate after a major river burst its banks. Officials are having a tough time helping the survivors while maintaining anti-COVID measures.
(NHK)
Jul 15
A panel under the justice minister proposed Tuesday establishing criminal penalties for foreign nationals who do not comply with deportation orders as Japan seeks to curb long-term detention of foreigners at immigration facilities.
(Japan Times)
Jul 15
Japan's government is considering whether to request business closures for nightlife establishments that fail to follow its guidelines to prevent the spread of the coronavirus.
(NHK)
Jul 15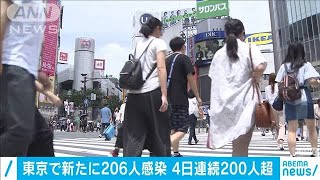 An advisory panel of experts to Japan's health ministry warns that coronavirus infections are continuing to spread throughout the country.
(NHK)
Jul 14
Japanese Prime Minister Abe Shinzo says the government will compile a financial package of more than 3.7 billion dollars to help regions in the southwest and elsewhere left battered by record rainfall.
(NHK)
Jul 14
A fireball that brightened the Tokyo sky earlier this month has been identified as a meteor after fragments were found in a neighboring prefecture, a national science museum said Monday.
(Japan Times)
Jul 14
Heavy rains in the northern part of Japan's Kyushu island are threatening the territory with landslides and flooding.
(NHK)
Jul 13
The new coronavirus infection count has been rising across the nation with more than 200 cases reported in Tokyo on Sunday.
(NHK)
---