Japan's Cabinet approved on Friday the dispatch of Maritime Self-Defense Force units to the Middle East, for the first time since the country enacted security-related bills in 2015, which were aimed at easing requirements for dispatching the MSDF.
A helicopter-equipped destroyer and patrol planes will conduct maritime security "survey and research" operations under the Act for Establishment of the Ministry of Defense. MSDF sailors dispatched for such purposes are not permitted to use weapons unless they are conducting maritime security operations in an emergency.
The government plans to send about 260 MSDF personnel. The destroyer will start operations in February and patrol planes will begin in January.
The MSDF will conduct operations in the Gulf of Oman, the northern Arabian Sea and the Gulf of Aden, east of the Strait of Bab-el-Mandeb. If the Japanese forces switch to maritime security operations, the use of weapons will only be allowed when the MSDF is guarding Japanese ships.
The Strait of Hormuz, where multiple tankers have been attacked, has been excluded over safety concerns.
The move is aimed at keeping pace with a U.S.-led coalition, dubbed Sentinel, which is scheduled to start operations in January. The MSDF, which will not be taking part in Sentinel, will take its own measures to ensure the security of its ship and patrol planes. It will cooperate with the U.S. in areas such as intelligence.
Jan 23
A woman and three children were found stabbed to death in a car in a park in Iwaki, Fukushima Prefecture, on Wednesday morning.
(Japan Today)
Jan 23
The last train schedules in and around the Japanese capital will be extended by up to two hours during the Tokyo 2020 Olympic Games.
(NHK)
Jan 23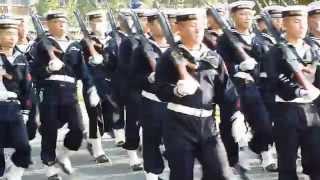 The first female student was admitted to Japan's national naval submarine academy Wednesday after the end of a ban on women on the country's submarines.
(Japan Times)
Jan 23
The smelt fishing season has begun at last on a frozen lake in Gunma Prefecture, central Japan. It started 10 days later than usual because of higher temperatures.
(NHK)
Jan 22
Dangerous stunt by Japanese civil servant gets slammed online.
(soranews24.com)
Jan 22
Japanese Environment Minister Shinjiro Koizumi has called into question Japan's financing of a coal-fired power plant in Vietnam.
(NHK)
Jan 21
Quarantine officials at a port near Tokyo have conducted a drill aimed at preventing the new coronavirus linked to a pneumonia outbreak in China from spreading in Japan.
(NHK)
Jan 21
Online streaming has been very good for the anime industry, opening flows of revenue both domestic and international by delivering the product to ravenous fans in the fastest manner possible. For a while, though, it looked like Studio Ghibli was going to stick to its "physical media-only" policy until the end of time.
(soranews24.com)
Jan 20
Japan will start issuing passports featuring art by ukiyoe master Katsushika Hokusai for people applying as early as February.
(NHK)
Jan 20
The agriculture ministry will propose a new law aimed at preventing the smuggling of genetic materials, such as fertilized eggs and semen, related to wagyu cattle to other countries.
(Japan Times)
---