A female flight attendant for All Nippon Airways (ANA) caused delays in the departures of four domestic flights from Fukuoka Airport after she was found to be over the legal alcohol limit before boarding.
According to a statement from ANA on Saturday, the flight attendant in her 20s was scheduled to board a flight from Fukuoka to Narita Airport on Friday morning, Fuji TV reported. However, she tested positive for alcohol during a pre-boarding inspection.
The airline was forced to switch crew members, which delayed a total of four flights — three of which were heading to Haneda Airport in Tokyo. Those flights were delayed up to 25 minutes.
According to ANA regulations, cabin crew are prohibited from consuming alcohol 24 hours before a flight instead of 12 hours which used to be the policy. The airline said the cabin attendant had been drinking the night before.
The mandatory alcohol test was carried out before flight NH2124 was scheduled to depart at 7:20 a.m. on Jan 3. After the test, taken at 6:30 a.m., showed that the woman had 0.14 milligrams of alcohol per liter on her breath, a scramble to replace her caused planes to be delayed.
3日、全日空の福岡発成田行きに搭乗予定の20代の客室乗務員の女性からアルコールが検知されていたことが分かりました。この影響で、福岡発羽田便など合わせて4便に遅れが出ました。  全日空によりますと、3日の福岡発成田行きに搭乗予定の20代の客室乗務員の女性から搭乗前の検査でアルコールが検知されました。全日空はこの客室乗務員の運航を取りやめ、別の乗務員と交代させました。この影響で、3日の福岡発羽田便など合わせて4便で最大30分程度の遅れが出ました。全日空の聞き取りに対し、客室乗務員は「前日の午後9時半ごろまで友人と焼酎2杯を飲んだ」などと話しているということです。全日空は「ご迷惑をお掛けしたことを深くおわび申し上げます。再発防止を図り、信頼回復に努めて参ります」とコメントしています。
Jan 23
A woman and three children were found stabbed to death in a car in a park in Iwaki, Fukushima Prefecture, on Wednesday morning.
(Japan Today)
Jan 23
The last train schedules in and around the Japanese capital will be extended by up to two hours during the Tokyo 2020 Olympic Games.
(NHK)
Jan 23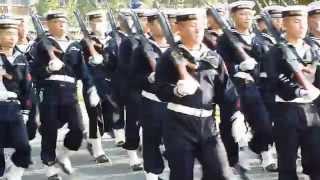 The first female student was admitted to Japan's national naval submarine academy Wednesday after the end of a ban on women on the country's submarines.
(Japan Times)
Jan 23
The smelt fishing season has begun at last on a frozen lake in Gunma Prefecture, central Japan. It started 10 days later than usual because of higher temperatures.
(NHK)
Jan 22
Dangerous stunt by Japanese civil servant gets slammed online.
(soranews24.com)
Jan 22
Japanese Environment Minister Shinjiro Koizumi has called into question Japan's financing of a coal-fired power plant in Vietnam.
(NHK)
Jan 21
Quarantine officials at a port near Tokyo have conducted a drill aimed at preventing the new coronavirus linked to a pneumonia outbreak in China from spreading in Japan.
(NHK)
Jan 21
Online streaming has been very good for the anime industry, opening flows of revenue both domestic and international by delivering the product to ravenous fans in the fastest manner possible. For a while, though, it looked like Studio Ghibli was going to stick to its "physical media-only" policy until the end of time.
(soranews24.com)
Jan 20
Japan will start issuing passports featuring art by ukiyoe master Katsushika Hokusai for people applying as early as February.
(NHK)
Jan 20
The agriculture ministry will propose a new law aimed at preventing the smuggling of genetic materials, such as fertilized eggs and semen, related to wagyu cattle to other countries.
(Japan Times)
---