As the cultural and historical heart of the country, Kyoto deserves a spot on any Japan travel itinerary. However, with the city welcoming so many travelers, sometimes it can be hard finding a hotel with vacant rooms on the nights you wish to stay.
But if you are looking for a place to stay in Japan's former capital, you'll be happy to know that there's a new hotel currently getting ready to receive guests. In a nod to local history, the building is actually the former headquarters of a local company. Maybe you've heard of it; it's called Nintendo.
Back in the pre-video game era, Nintendo made playing cards, and later branched out into children's toys. After the release of the Famicom/NES, though, the company rapidly grew into one of the most successful entertainment media companies on the planet, and that expansion meant it eventually had to move out of the office building it had been working in since 1933.
The building still stands, complete with its bilingual "Nintendo Playing Card Co." signs, but it's been idle for some time. However, that's going to change when the old Nintendo HQ reopens as a hotel, to be managed by Plan Do See, a Tokyo-based company that specializes in renovating unused historic buildings and giving them a second life.
The hotel, for which an official name has yet to be announced, is scheduled to open in the summer of 2021.
Jun 01
Japan's government is asking people to continue taking preventative measures against the coronavirus after a renewed surge in cases in the southwestern city of Kitakyushu.
(NHK)
Jun 01
The government of Tokyo confirmed five COVID-19 infections Sunday — the first time in six days the daily figure came in at under 10.
(Japan Times)
Jun 01
In Italy, they sing from balconies. In the UK, they place pictures of rainbows in windows. In India, they chant "Go corona." Around the world, solidarity in the face of the coronavirus is taking many forms. In Japan, that form has three legs, a beak, scaly skin and floor-length hair. Meet Amabie, the 19th century half-fish, half-human that's resurfaced to keep people safe.
(NHK)
Jun 01
People in Japan enjoyed outside activities on Saturday and Sunday, as the country marked the first weekend since its state of emergency over the COVID-19 epidemic was fully lifted on May 25.
(Japan Times)
Jun 01
A 58-year-old member of a yakuza gang was wounded in a shooting in Okayama on Saturday afternoon.
(Japan Today)
Jun 01
A common situation when visiting or living in other countries is having to talk about where you come from. Unless you happen to be from one of the handful of major metropolises in the world, chances are people abroad will never have heard of your particular hometown.
(soranews24.com)
Jun 01
Top favorite Contrail remained on track to win the Japanese triple crown this year after blowing past the field in the 87th running of the Japanese Derby on Sunday.
(Kyodo)
Jun 01
Japan's government is set to ask all independent administrative corporations and government-designated corporations handling personal information, to consider security risks when purchasing telecommunication equipment.
(NHK)
Jun 01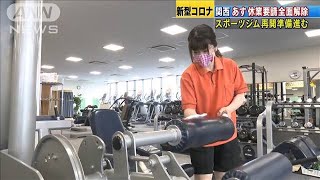 People at a sports club in Tokyo have enjoyed playing tennis and soccer on the first Sunday since the state of emergency was lifted in the Japanese capital.
(NHK)
May 31
Fourteen new coronavirus infections were reported in Tokyo on Saturday, a local official said.
(Japan Today)
---