At first glance, things seem to be getting better for Japanese women.
In an economy that's historically lagged other developed nations when it comes to female workforce participation, a record 71 percent are now employed, an 11 point leap over a decade ago.
The government boasts one of the most generous parental leave laws in the world and recently created a "limited full-time worker" category aimed primarily at mothers looking to balance job and family. And one of the most important needs for working families — child day care — is slowly being expanded.
But even with these advantages, Japanese women — whether single or married, full-time or part-time — face a difficult financial future. A confluence of factors that include an aging population, falling birthrates and anachronistic gender dynamics are conspiring to damage their prospects for a comfortable retirement. According to Seiichi Inagaki, a professor at the International University of Health and Welfare, the poverty rate for older women will more than double over the next 40 years, to 25 percent.
For single, elderly women, he estimated, the poverty rate could reach 50 percent.
In Japan, people live longer than almost anywhere else and birthrates are at their lowest since records began. As a result, the nation's working-age population is projected to have declined by 40 percent come 2055.
With entitlement costs skyrocketing, the government has responded by scaling back benefits while proposing to raise the retirement age. Some Japanese responded by moving money out of low-interest bank accounts and into 401(k)-style retirement plans, hoping investment gains might soften the blow. But such a strategy requires savings, and women in Japan are less likely to have any.
Japan's gender pay gap is one of the widest among advanced economies. According to the Organization for Economic Cooperation and Development, Japanese women make only 73 percent as much as men. Japan's demographic crisis is making matters worse: Retired couples who are living longer need an additional $185,000 to survive projected shortfalls in the public pension system, according to a recent government report.
A separate study did the math for Japanese women: They will run out of money 20 years before they die.
Jan 23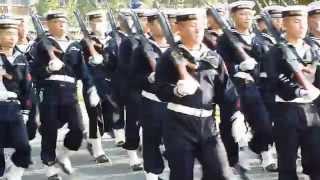 The first female student was admitted to Japan's national naval submarine academy Wednesday after the end of a ban on women on the country's submarines.
(Japan Times)
Jan 23
Japan's oldest university continues to produce the best and the worst that the country has to offer.
(soranews24.com)
Jan 22
The Japanese government has decided it will not to give subsidies this fiscal year ending March to a university where a large number of foreign students have gone missing.
(NHK)
Jan 21
Online streaming has been very good for the anime industry, opening flows of revenue both domestic and international by delivering the product to ravenous fans in the fastest manner possible. For a while, though, it looked like Studio Ghibli was going to stick to its "physical media-only" policy until the end of time.
(soranews24.com)
Jan 18
An international group of geologists on Friday formally adopted "Chibanian" as the name of a geologic age spanning 770,000 to 126,000 years ago, researchers said, marking the first time a Japanese name has been chosen.
(Japan Times)
Jan 18
With Japanese society often placing intense pressure on teens and adults alike, as well as traditional values that can frame self-sacrifice as an admirable way of taking responsibility, a high suicide rate has long been a dark mark on the nation's culture.
(soranews24.com)
Jan 15
The communications ministry on Tuesday authorized Japanese public broadcaster NHK to start simultaneous online streaming of its television programs from April.
(Japan Today)
Jan 14
Aichi Prefectural Police last week arrested a student at Meijo University in Nagoya over the alleged stabbing of a teacher, reports NHK (Jan. 10).
(tokyoreporter.com)
Jan 13
Young men and women in northeastern Japan have talked about their hopes for rebuilding towns that were devastated by the 2011 earthquake and tsunami.
(NHK)
Jan 13
At first glance, things seem to be getting better for Japanese women.
(Japan Times)
---