Nagasaki priest says over-tourism, vandalism and theft of amulets led to his controversial decision.
In Japan, a lot of importance is placed on behaving well and respecting traditions and etiquette, and nowhere are these virtues more valued than at a holy place of worship, such as a temple or shrine.
For one shrine priest in Nagasaki Prefecture, however, the lack of respect displayed by visiting worshippers has become such a problem that he's now decided to take issues into his own hands, announcing on Twitter that he would be banning all foreign tourists.
The tweet, from the head priest of Watatsumi Shrine, which lies on the island of Tsushima, says the blanket ban on all foreign tourists is due to bad behaviour by Korean visitors, involving abusive language and aggressive conduct from tour guides and theft of talismans by tourists.
Tsushima's location, in between the Korea Strait and the Tsushima Strait, roughly halfway between the Japanese mainland and the Korean peninsula, means the shrine receives a large number of Korean tourists. The priest says the shrine is currently suffering from over-tourism, with up to 30-40 tour buses dropping people off on the grounds on a busy day so they can take photos on the picturesque grounds.
While the ban covers all foreign tourists, the priest has specifically taken issue with visitors from Korea, one of whom was a YouTuber who filmed the grounds and people at the shrine without permission. He's also been dismayed by tourists sitting on the side of the road eating food, as the land past the white line is said to be part of the shrine grounds.
There's also the issue of vandalism by Korean visitors, who've etched their names into a wooden board dedicated to the hanging of ema votive plaques.
The priest says he's also had a problem with the conduct of tour guides, who stand on the steps at the front of the haiden, a hall of worship, despite him asking them not to do so. On a busy day, he's cautioned up to 40 guides, which is something he says he does from 9 a.m. to 5 p.m. from spring through to summer.
Aug 06
Hiroshima is marking the 75th anniversary of the world's first atomic bombing. A ceremony will be held Thursday morning at Peace Memorial Park in the western Japanese city.
(NHK)
Aug 06
Japan's daily number of confirmed coronavirus cases on Wednesday topped 1,300, remaining at high levels ahead of next week's summer holiday peak, with health authorities calling on people to be cautious when they travel to their hometowns and elsewhere.
(Kyodo)
Aug 06
Japanese holidaymakers should refrain from domestic travel and regional governments should act independently to contain a resurgence of coronavirus infections, the country's top doctors' association said on Wednesday.
(Japan Today)
Aug 06
Japanese drugstores were stripped bare of gargling solution by Wednesday, a day after the governor of Osaka Prefecture suggested it could help fight coronavirus, triggering panicked buying reminiscent of the early days of mask shortages.
(Japan Today)
Aug 06
The Japanese musical theater company Takarazuka Revue has extended the cancelation of its performances after three performers and one staff member tested positive for the coronavirus.
(NHK)
Aug 06
Sweltering heat continued in Japan on Wednesday. Weather officials are advising people to be cautious of heatstroke.
(NHK)
Aug 06
The population of Japan has fallen for the 11th straight year. The amount of the decline has set a record for six years in a row.
(NHK)
Aug 06
The average summer bonus at major Japanese companies this year dropped 2.17 percent from a year earlier to ¥901,147, a Japan Business Federation survey showed Wednesday.
(Japan Times)
Aug 06
Uber Technologies has begun to offer a food delivery subscription in Japan that replaces per-order fees, tapping into the growing demand from consumers holed up at home from the coronavirus.
(Nikkei)
Aug 05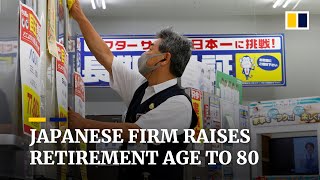 Japan's decision to offer an initial group of 87 companies subsidies totalling US$653 million to expand production at home and in Southeast Asia has sparked debate whether the world's third largest economy is trying to gradually decouple from China.
(scmp.com)
---