Tokyo and Washington are making plans to evacuate Japanese and American citizens from Wuhan, the epicenter of the novel coronavirus outbreak that has claimed more than 50 lives, while Honda Motor said Sunday it was evacuating about 30 employees and family members out of the area back to Japan.
Japan's Prime Minister Shinzo Abe said on Sunday that after his government finishes talks with Chinese authorities, it will bring back "all [Japanese citizens] that wish to return, and is looking at all possible means, such as chartered flights."
Abe said that the government has been asking Japanese residents in Wuhan if they want to leave the city. Some 430 Japanese nationals had been confirmed to reside in or near Wuhan, according to Foreign Minister Toshimitsu Motegi.
Honda said that it will have roughly 30 personnel, including Japanese expatriates and their families, fly from Wuhan to Japan on a charter flight arranged by the government. A few employees are expected to stay in Wuhan, where the automaker has three factories.
Motegi spoke with Chinese counterpart Wang Yi over the phone on Sunday evening to ask for China's cooperation in bringing Japanese citizens back home. Wang expressed understanding of Japan's position. Motegi also promised Japan's full support to prevent the infection from spreading. Wang said that China will work to provide information to the international community.
The government is also considering evacuation by road from Hubei Province, and have Japanese nationals take flights home from other places, according to sources.
Japanese Prime Minister said Sunday that his government was considering using charter flights to evacuate Japanese citizens from the Chinese city of Wuhan.
The Chinese government said on Sunday the death toll in the country from the coronavirus rose to 56 from 41 a day earlier, with 1,975 cases confirmed. Thailand, Japan, South Korea, Vietnam, the U.S., France, Taiwan, Hong Kong, Macao, Singapore, Nepal and Malaysia have all reported cases.
Mar 28
The governor of Tokyo has again urged people to refrain from non-essential outings, warning that the capital is at a critical juncture in preventing an explosive spread of the coronavirus.
(NHK)
Mar 28
Supermarkets and convenience stores decided Thursday to stay open as usual in the coming days, after a request by Tokyo Gov. Yuriko Koike's for residents in the capital not to leave home over the weekend.
(Japan Times)
Mar 28
The health ministry said Friday 92 passengers and crew members aboard a flight from Chicago to Narita airport near Tokyo were allowed to enter Japan without being asked to self-isolate for 14 days and refrain from using public transport.
(Japan Today)
Mar 28
A man was arrested Friday on suspicion of obstructing business after he allegedly delayed a domestic flight in Japan on Thursday immediately before takeoff by telling cabin crew he was infected with the novel coronavirus.
(Japan Today)
Mar 28
The Japanese government decided on Friday to invalidate visas issued in 11 countries in Southeast Asia, Middle East and Africa due to the coronavirus pandemic.
(NHK)
Mar 28
Mask prices in Tokyo's densely populated 23 wards jumped 11.3 percent in March from a year before, reflecting supply shortages stemming from the spread of COVID-19, government data showed Friday.
(Japan Times)
Mar 27
Japan will impose an entry ban on foreign travelers coming from 21 European countries and Iran as part of stronger measures to contain the new coronavirus, Prime Minister Shinzo Abe said Thursday.
(Kyodo)
Mar 27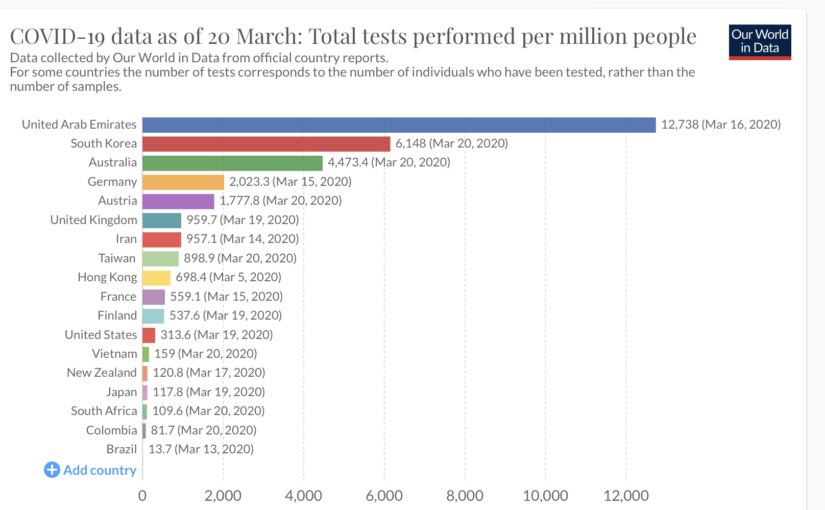 Germany has decided that saving lives is more important than saving face. In a rather undiplomatic letter to German citizens in Japan posted on the Embassy Of Germany's web site on March 24, the embassy did not mince words in discussing Japan's poor handling of coronavirus testing. It warns that we should assume there are a high number of unreported carriers.
(japansubculture.com)
Mar 27
Tokyo Gov. Yuriko Koike's call for residents to stay indoors this weekend has sent people rushing to supermarkets to stockpile food and other essentials.
(Japan Times)
Mar 27
Japan's approach to social distancing during the coronavirus pandemic might seem to other nations around the world like it is very social, and not so distant.
(Kyodo)
---