Vaccines against a coronavirus that has killed 170 people in China probably won't be ready by the start of the Tokyo Summer Olympics, a professor who looked at health risks ahead of the games said, adding that he hoped that there was enough time to build defenses.
Koji Wada, professor of public health at the International University of Health and Welfare in Tokyo, co-authored a paper in 2018 that looked at health risks from the influx of visitors to the 2020 Games in July.
The spread of measles, rubella and other vaccine-preventable diseases was seen at the time as the most likely risk, according to the report, along with food and waterborne illnesses.
Wada said he hoped there was enough time to learn more about the coronavirus and how it spreads.
"We may have more information about the risk of infection and the risk of severity of getting the virus, so we can prepare," Wada said in an interview Wednesday. "So we can have some precautions for infection control … but I hope we can conduct the Tokyo Olympics as scheduled."
Jun 04
Two Yomiuri Giants players have tested positive for the novel coronavirus, the Central League team announced Wednesday, casting a shadow over Nippon Professional Baseball's plan to start the 2020 season on June 19.
(Japan Today)
Jun 01
Top favorite Contrail remained on track to win the Japanese triple crown this year after blowing past the field in the 87th running of the Japanese Derby on Sunday.
(Kyodo)
Jun 01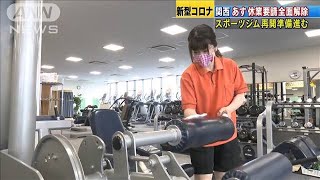 People at a sports club in Tokyo have enjoyed playing tennis and soccer on the first Sunday since the state of emergency was lifted in the Japanese capital.
(NHK)
May 30
The countdown is on for one of the most prestigious horse races in Japan, as the clock ticks down to 3:40 p.m. on Sunday, when the Japanese Derby will be run.
(Japan Times)
May 26
Japan's professional baseball teams will start the 2020 season on June 19 after a three-month delay due to the coronavirus outbreak.
(NHK)
May 24
The sumo world is grappling with its latest crisis as a result of the coronavirus outbreak, which has claimed the life of a 28-year-old wrestler and forced the cancellation of the sport's showpiece May tournament.
(Japan Today)
May 24
Japanese tennis player Osaka Naomi earned more than 37 million dollars in the past year, becoming the highest-earning female athlete ever.
(NHK)
May 23
When you open the main page of
AlfCasino
, you enter the fantastic world where under the open sky live incredible creatures, including aliens, warriors, princesses, etc. They welcome you to sign up and start playing.
(newsonjapan.com)
May 22
International Olympic Committee President Thomas Bach has suggested that the rescheduled Tokyo 2020 Games will have to be cancelled if they cannot be held next summer.
(NHK)
May 21
Japan's annual summer high school baseball tournament has been canceled due to the coronavirus outbreak.
(NHK)
---