The coronavirus outbreak in China is wreaking havoc in the cruise industry, turning luxury Asian vacations into voyages to nowhere as the ships are denied entry at multiple ports.
All 21 large cruise ships that have visited China since January remain in the Asia-Oceania region, and some have been unable to confirm their next port calls, a Nikkei analysis of tracking data shows. A few vessels apparently have nowhere to go after being rejected by more than one destination.
Japan, South Korea, Taiwan, the Philippines and Vietnam have all turned ships away.
Concerns about cruises becoming floating vehicles for the viral pneumonia have grown this week as Japan faced a mini-outbreak aboard a ship quarantined off Yokohama, near Tokyo. As of Friday morning, the number of infections found on the Diamond Princess was up to 61, after a startling surge of 41 from the previous day.
One of the ships now struggling to find a place to drop anchor is the Westerdam, operated by Holland America Line, a unit of U.S.-based Carnival.
The ship, which can carry about 1,960 passengers and about 800 crew members, left Hong Kong on Feb. 1, according to data provided by Refinitiv and Japan's IHI Jet Service. On Thursday, it came within 100 km of the port of Ishigaki in Okinawa but did not stop.
The Japanese government said on Friday that it had asked the Westerdam not to dock in Ishigaki. Originally, the cruise had been scheduled to call at Naha, also in Okinawa.
Data shows 11 of the 21 ships that had called in China since January stopped in Japan as well. These ships, together, were capable of carrying an estimated 35,000 passengers, or about 50,000 people including crew. Some called at the ports of Fukuoka, Nagasaki and Naha more than once.
Jul 15
Japan is planning to start letting foreign residents who left the country before April 3 back in, starting in August.
(Nikkei)
Jul 15
People in Tokyo are watching with wary eyes as the latest daily case numbers hover in the mid-100s after topping 200 four days in a row through Sunday.
(NHK)
Jul 15
Torrential rain has devastated parts of Japan. In the western region of Chugoku, thousands of people have been ordered to evacuate after a major river burst its banks. Officials are having a tough time helping the survivors while maintaining anti-COVID measures.
(NHK)
Jul 15
A panel under the justice minister proposed Tuesday establishing criminal penalties for foreign nationals who do not comply with deportation orders as Japan seeks to curb long-term detention of foreigners at immigration facilities.
(Japan Times)
Jul 15
Japan's government is considering whether to request business closures for nightlife establishments that fail to follow its guidelines to prevent the spread of the coronavirus.
(NHK)
Jul 15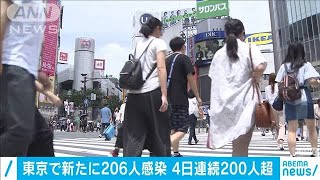 An advisory panel of experts to Japan's health ministry warns that coronavirus infections are continuing to spread throughout the country.
(NHK)
Jul 14
Japanese Prime Minister Abe Shinzo says the government will compile a financial package of more than 3.7 billion dollars to help regions in the southwest and elsewhere left battered by record rainfall.
(NHK)
Jul 14
A fireball that brightened the Tokyo sky earlier this month has been identified as a meteor after fragments were found in a neighboring prefecture, a national science museum said Monday.
(Japan Times)
Jul 14
Heavy rains in the northern part of Japan's Kyushu island are threatening the territory with landslides and flooding.
(NHK)
Jul 13
The new coronavirus infection count has been rising across the nation with more than 200 cases reported in Tokyo on Sunday.
(NHK)
---