Young women in Japan are experiencing serious financial trouble.
Life in Japan can be tough in many ways–long hours at the office and overcrowded trains being two of the biggest difficulties–but with the country being so clean and the crime rates so low, you would think that poverty isn't really an issue in the country. Unfortunately, it is — it's just a hidden problem.
The cost of living is high in Japan, especially in Tokyo, because amenities that might be considered basic in other countries, like fruit, education, and even the process of moving into a new apartment are expensive. In fact, according to a recent survey done by financial news site Money Book, single women in their twenties are especially struggling to stay afloat, with more than 50 percent of respondents claiming that money is tight.
The survey is part of an endeavor to see how well the government's efforts to reform the work environment and help promote women in the workforce are working. 350 twenty-something women from across Japan were surveyed about their work, salary, and expenses, and the results were pretty interesting. To start with, when asked about their salaries, 49.9 percent of respondents were earning less than 200,000 yen per month (US$2,094.38).
For reference, the rent of a decent one-room studio apartment in Tokyo usually starts at about 70,000 yen per month, but can go up to 100,000 or more, depending on location, size, and quality. At that rate, a salary of 200,000 yen could be pretty tight. You could make it on far less, but you would have to sacrifice a lot of the things that you enjoy. In fact, the average monthly expenses for these women came out to 143,685 yen, with the largest number of women (28.6 percent) reporting that they spend between 100,000 and 150,000 yen every month on bills and necessities.
Feb 20
Authorities in some prefectures where people are confirmed to be infected with the new coronavirus are providing multilingual information services for foreigners visiting or living in Japan.
(NHK)
Feb 19
Kanagawa Prefectural Police believe a high school girl committed suicide by leaping in front of a train on Tuesday morning, an incident that she possbily broadcast on social media, reports NHK (Feb. 18).
(tokyoreporter.com)
Feb 13
The Board of Education in Ikoma City, Nara Prefecture, says that several 8th grade junior high school boys are suspected of voyeuristically filming up the skirts of their female classmates.
(Japan Today)
Feb 12
Japan's Immigration Services Agency is to tighten the screening process for issuing student visas, increasing tenfold the number of countries subject to stricter checks starting with foreign nationals applying from April.
(Nikkei)
Feb 10
Young women in Japan are experiencing serious financial trouble.
(soranews24.com)
Feb 08
An 18-year-old female student has been arrested on suspicion of attempted murder after she stabbed a fellow student with a knife at a high school in Iruma City, Saitama Prefecture,.
(Japan Today)
Feb 06
Amid the growing spread of new coronavirus 2019-nCoV, universities and high schools approaching entrance exam season nationwide are setting out precautions for examinees, including allowing them to wear masks during the tests and reimbursing test fees if an infection prevents them from sitting their exams.
(Japan Times)
Feb 01
The number of foreign workers in Japan totaled 1,658,804 as of October last year, up 13.6 percent from a year earlier and marking the highest level on record, government data showed Friday.
(Japan Times)
Jan 31
Japan will allow more foreign nationals, including those holding short-term visas, to take a skills test from April under the new blue-collar visa program that is aimed at addressing national labor shortages, immigration officials said Thursday.
(Japan Times)
Jan 23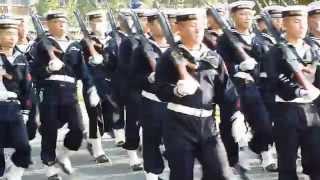 The first female student was admitted to Japan's national naval submarine academy Wednesday after the end of a ban on women on the country's submarines.
(Japan Times)
---