On a chilly January afternoon in Yokohama, a 25-year-old IT company employee said what much of Japan is thinking: "I'm not expecting my salary and the economy to improve much."
The man has only been in his job for a year, following graduate school. But any excitement he might have felt about this new beginning is overshadowed by fears for the future. How, he wonders, will he cover the expenses that inevitably come with marriage, children and looking after aging parents?
Takahide Watanabe, a 58-year-old at a very different point in his career, struck a similarly somber note. "Companies don't give employees a big pay raise because they don't know what will happen next."
A gloom hangs over the country after years of Abenomics -- Prime Minister Shinzo Abe's program to get the Japanese economy humming again. To an extent, it worked, powering a streak of expansion that lasted more than seven years. But the economy is believed to have contracted in the October-December period -- the results are due next Monday -- as a result of one-off factors such as typhoon damage and the consumption tax increase on Oct. 1.
This raises fresh questions about the economy's resilience just as Japan's longest-serving leader confronts a new threat: the coronavirus originating in China.
The immediate focus is on consumers' response to the tax increase. Economists expected shoppers would pull back in the last quarter, as households tend to make big purchases before a hike. Still, the levy rose a relatively modest 2 percentage points, to 10% from 8%. Surely, many thought, this would not be enough to send the economy into a contraction.
Yet, despite generous government spending to offset the impact, a QUICK survey of 17 analysts suggests gross domestic product declined 3.9% from the previous quarter on an annualized basis.
Department stores have taken a beating. Sales have dropped for three straight months, including a 5% year-on-year fall in December, according to the Japan Department Stores Association.
Feb 17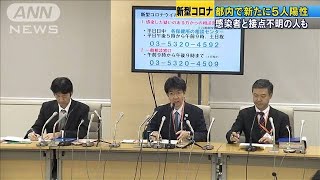 The coronavirus outbreak remains at an initial stage in Japan, an expert panel under the health ministry said Sunday, choosing not to raise the country's alert level that would have allowed for a more aggressive response.
(Nikkei)
Feb 17
The approval rate for Prime Minister Shinzo Abe's Cabinet stands at 41.0 percent, a Kyodo News survey showed Sunday, down 8.3 points from the previous poll in January and marking the sharpest fall in nearly two years amid yet another cronyism scandal.
(Kyodo)
Feb 17
The ruling Liberal Democratic Party submitted an amendment to the Diet in January to expand the "widow's deduction" covering single parents who have never been married.
(Japan Times)
Feb 14
The Japanese government has launched a 136-million-dollar package to fight the coronavirus outbreak. It includes funds for the development of a vaccine and treatment for the illness caused by the virus.
(NHK)
Feb 13
A Japanese lawmaker who has been indicted for accepting bribes in connection with a government-led integrated resort project has been released on bail.
(NHK)
Feb 13
The Japanese government plans to offer subsidies to face mask manufacturers to help them boost their production capacity.
(NHK)
Feb 10
On a chilly January afternoon in Yokohama, a 25-year-old IT company employee said what much of Japan is thinking: "I'm not expecting my salary and the economy to improve much."
(Nikkei)
Feb 09
Japan's Cabinet will approve next week emergency measures against a new coronavirus to strengthen screenings and provide financial support to the tourism industry, a source close to the matter said Saturday.
(Kyodo)
Feb 04
Japanese Prime Minister Shinzo Abe says officials have started developing test kits to detect the new coronavirus in an effort to find infections more swiftly.
(NHK)
Feb 01
Japan's government is facing criticism that its initial response to the outbreak of a deadly coronavirus was too lax, as other countries have taken stronger steps to prevent a spread within their borders.
(Kyodo)
---