Every year, tens of thousands of tourists flock to the snow festival in Sapporo, Hokkaido, attracted by some 200 large, but intricate ice sculptures.
The festival closes on Tuesday but this year, there was a problem: no snow.
With high temperatures that festival-goers put down to climate change, organizers were forced to truck in powder from distant towns for their signature sculptures in an unheard-of ice crisis.
"This lack of snow is unprecedented," said Yumato Sato, an official in charge of organizing the snow festival, which normally uses 30,000 tons of the stuff for sculptures ranging from anime characters to famous racehorses.
"We had to bring in snow from places we had never reached out to before" such as Niseko, a town about 60 kilometers away from Sapporo famous for its skiing, he said.
Adding to the problem was the need for pristine snow, perfect for sculpting.
"The snow needs to be free of dirt, otherwise the sculptures can break up," he said. "We barely managed to scrape together enough snow."
Record low snowfall in Japan this year has also forced many ski resorts to shut their pistes. According to Weathernews, one quarter of the 400 resorts surveyed had been unable to operate.
There has been a knock-on effect on one of the snow festival's main attractions -- a 100-meter-long, 10-meter-high slide -- that had to be reduced in size.
Snowfall in Sapporo has been less than half the annual average, according to the Japan Meteorological Agency's local observatory. High temperatures melted the snow in mid-December and the mercury is expected to stay above average.
Jul 15
Japan is planning to start letting foreign residents who left the country before April 3 back in, starting in August.
(Nikkei)
Jul 15
People in Tokyo are watching with wary eyes as the latest daily case numbers hover in the mid-100s after topping 200 four days in a row through Sunday.
(NHK)
Jul 15
Torrential rain has devastated parts of Japan. In the western region of Chugoku, thousands of people have been ordered to evacuate after a major river burst its banks. Officials are having a tough time helping the survivors while maintaining anti-COVID measures.
(NHK)
Jul 15
A panel under the justice minister proposed Tuesday establishing criminal penalties for foreign nationals who do not comply with deportation orders as Japan seeks to curb long-term detention of foreigners at immigration facilities.
(Japan Times)
Jul 15
Japan's government is considering whether to request business closures for nightlife establishments that fail to follow its guidelines to prevent the spread of the coronavirus.
(NHK)
Jul 15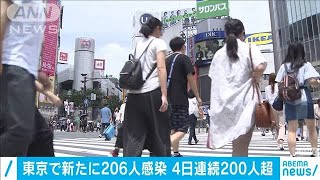 An advisory panel of experts to Japan's health ministry warns that coronavirus infections are continuing to spread throughout the country.
(NHK)
Jul 14
Japanese Prime Minister Abe Shinzo says the government will compile a financial package of more than 3.7 billion dollars to help regions in the southwest and elsewhere left battered by record rainfall.
(NHK)
Jul 14
A fireball that brightened the Tokyo sky earlier this month has been identified as a meteor after fragments were found in a neighboring prefecture, a national science museum said Monday.
(Japan Times)
Jul 14
Heavy rains in the northern part of Japan's Kyushu island are threatening the territory with landslides and flooding.
(NHK)
Jul 13
The new coronavirus infection count has been rising across the nation with more than 200 cases reported in Tokyo on Sunday.
(NHK)
---