Japan's Olympic minister said Tuesday the contract to hold the games only specifies the event has to be held during 2020.
Seiko Hashimoto's response to a question in the Upper House of the Diet implies the Olympics could be held later in the year and would not have to start on July 24 as planned.
The Tokyo Olympics are being threatened by a fast-spreading coronavirus (COVID-19) that has been blamed for 12 deaths in Japan and has shut down most sports competitions and Olympic-related events in the country.
"The IOC has the right to cancel the games only if they are not held during 2020," Hashimoto told the Diet. "This can be interpreted to mean the games can be postponed as long as they are held during the calendar year."
IOC officials and Tokyo 2020 organizers have repeatedly said they expect the Olympics to open on schedule. Others have suggested the spreading virus could force cancellation, postponement or moving events to other cities.
Jul 15
Japan is planning to start letting foreign residents who left the country before April 3 back in, starting in August.
(Nikkei)
Jul 15
People in Tokyo are watching with wary eyes as the latest daily case numbers hover in the mid-100s after topping 200 four days in a row through Sunday.
(NHK)
Jul 15
Torrential rain has devastated parts of Japan. In the western region of Chugoku, thousands of people have been ordered to evacuate after a major river burst its banks. Officials are having a tough time helping the survivors while maintaining anti-COVID measures.
(NHK)
Jul 15
A panel under the justice minister proposed Tuesday establishing criminal penalties for foreign nationals who do not comply with deportation orders as Japan seeks to curb long-term detention of foreigners at immigration facilities.
(Japan Times)
Jul 15
Japan's government is considering whether to request business closures for nightlife establishments that fail to follow its guidelines to prevent the spread of the coronavirus.
(NHK)
Jul 15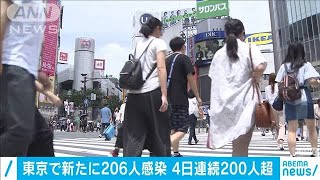 An advisory panel of experts to Japan's health ministry warns that coronavirus infections are continuing to spread throughout the country.
(NHK)
Jul 14
Japanese Prime Minister Abe Shinzo says the government will compile a financial package of more than 3.7 billion dollars to help regions in the southwest and elsewhere left battered by record rainfall.
(NHK)
Jul 14
A fireball that brightened the Tokyo sky earlier this month has been identified as a meteor after fragments were found in a neighboring prefecture, a national science museum said Monday.
(Japan Times)
Jul 14
Heavy rains in the northern part of Japan's Kyushu island are threatening the territory with landslides and flooding.
(NHK)
Jul 13
The new coronavirus infection count has been rising across the nation with more than 200 cases reported in Tokyo on Sunday.
(NHK)
---