Yokuzuna Hakuho stormed ahead to his eighth victory at the Spring Grand Sumo Tournament on Sunday, while another wrestler at the tourney — being held behind closed doors because of the COVID-19 outbreak — pulled out after running a high fever.
It was easy sailing for the Mongolian-born yokozuna in a quick win over No. 4 maegashira Abi (4-4) that left Hakuho leading two wrestlers with 7-1 records.
The 15-day meet entered its final week at Edion Arena Osaka under a cloud after No. 15 maegashira Chiyomaru recorded a fever of at least 37.5 Celsius for two straight days and withdrew. The Japan Sumo Association began the tournament on the understanding it would be canceled should either a wrestler or association member test positive for the coronavirus.
Chiyomaru (5-3), who defaulted his match against No. 17 Meisei (3-5), was examined at a hospital and returned to his Kokonoe stable's training base, where he is being quarantined from other wrestlers. The wrestler is scheduled to be tested for influenza on Monday, and according to the JSA, he has consented to a test for the coronavirus if his fever persists and it appears he might be infected.
Hakuho, who is looking to extend his career record for grand tournament championships with his 44th, took a shove to the throat from Abi and absorbed a shove before yanking the maegashira to one side. As Abi crashed forward out of control, Hakuho clutched his opponent's torso to break his fall.
No. 3 Mitakeumi lost his chance to stay one win back of Hakuho when he was beaten badly on the opening charge by yokozuna Kakuryu, who rammed home and drove him out, leaving both men at 6-2.
Jul 15
Japan is planning to start letting foreign residents who left the country before April 3 back in, starting in August.
(Nikkei)
Jul 15
People in Tokyo are watching with wary eyes as the latest daily case numbers hover in the mid-100s after topping 200 four days in a row through Sunday.
(NHK)
Jul 15
Torrential rain has devastated parts of Japan. In the western region of Chugoku, thousands of people have been ordered to evacuate after a major river burst its banks. Officials are having a tough time helping the survivors while maintaining anti-COVID measures.
(NHK)
Jul 15
A panel under the justice minister proposed Tuesday establishing criminal penalties for foreign nationals who do not comply with deportation orders as Japan seeks to curb long-term detention of foreigners at immigration facilities.
(Japan Times)
Jul 15
Japan's government is considering whether to request business closures for nightlife establishments that fail to follow its guidelines to prevent the spread of the coronavirus.
(NHK)
Jul 15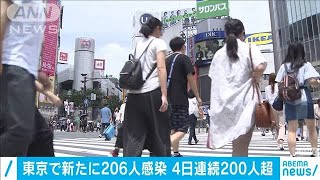 An advisory panel of experts to Japan's health ministry warns that coronavirus infections are continuing to spread throughout the country.
(NHK)
Jul 14
Japanese Prime Minister Abe Shinzo says the government will compile a financial package of more than 3.7 billion dollars to help regions in the southwest and elsewhere left battered by record rainfall.
(NHK)
Jul 14
A fireball that brightened the Tokyo sky earlier this month has been identified as a meteor after fragments were found in a neighboring prefecture, a national science museum said Monday.
(Japan Times)
Jul 14
Heavy rains in the northern part of Japan's Kyushu island are threatening the territory with landslides and flooding.
(NHK)
Jul 13
The new coronavirus infection count has been rising across the nation with more than 200 cases reported in Tokyo on Sunday.
(NHK)
---