A man infected with the novel coronavirus who went to a Filipino pub earlier this month saying he wanted to "spread the virus" died Wednesday at a hospital in central Japan, investigative sources said.
After testing positive with the pneumonia-causing virus on March 4, the 57-year-old man from Gamagori, Aichi Prefecture, went to the pub in the city that evening despite a request by health officials to stay at home. The local authorities said they did not have power to prohibit him from going out.
Police launched an investigation into the man, whose identity has not been released, last Friday after a woman in her 30s working at the pub tested positive for the virus that causes COVID-19. The woman's nationality has not been disclosed.
The police had planned to question him on suspicion of obstruction of business after he left the hospital, to which he was admitted March 5.
The man stayed at the pub for about 40 minutes after spending 15 minutes at an izakaya Japanese-style drinking establishment, according to Gamagori city officials.
At the Filipino pub, the man sang karaoke and put his arm around a female employee who was serving him, a source knowledgeable of the situation said.
Although the female employee tested negative for the virus, another female worker developed a fever March 8 and later tested positive, Toyota municipal officials said last Thursday. The woman lives with her family in the city.
Both the izakaya and the Filipino pub temporarily suspended business from March 4, with the pub manager filing a damage report to authorities last Friday.
The man had tested positive for the virus a day after his parents, with whom he lived, were found to be infected. He had serious pre-existing conditions, sources close to the matter said.
Before going out by taxi March 4, the man told his parents he wanted to "spread the virus," according to the Gamagori municipal officials.
「ウイルスをばらまく」と言い残して飲食店に立ち寄った愛知県蒲郡市の50代の男性が18日に死亡しました。一方で海外から帰国した人の感染も相次いでいます。  愛知県蒲郡市で今月4日、新型コロナウイルスの感染が確認されたにもかかわらず、ウイルスをばらまくと複数の飲食店に立ち寄っていた50代の男性が入院先の病院で死亡したことが分かりました。捜査関係者によりますと、男性は感染する前から持病があったということです。男性が立ち寄った飲食店では30代の女性従業員の感染が確認されていて、愛知県警は業務妨害容疑での立件を視野に捜査を始めていました。  一方、日々の感染者は増え続けています。連日、感染者報告が相次ぐ新潟県。新たに20代男性の感染が確認されました。この男性は、16日に感染が分かった50代女性の家族です。  新たな感染経路として危惧されているのが海外からの帰国者。愛媛県内で3例目の感染者となったのは松山市の30代女性会社員。女性は、仕事のため今月上旬から主にイタリアに滞在し、15日にローマを出発して16日に一時帰国していました。せきなどの症状があったのはイタリア滞在時の14日。帰国後も発熱があったためPCR検査を受け、17日夜、陽性が確認されたということです。  また、同じく岐阜県でも帰国者の発症が明らかとなりました。新たな感染者となった50代男性は4日から9日までニューヨークを訪れていて、帰国時から倦怠(けんたい)感や発熱が続き17日、陽性が判明しました。  さらに、県政にも影響が出ています。17日、感染が明らかとなった日本サッカー協会の田嶋会長と会議で同席していたという埼玉県副知事の自粛が発表されました。  先の見えない事態による経済の落ち込みに対応策が検討されています。政府関係者によりますと、政府・与党では現金給付を行う案が浮上。2008年のリーマン・ショックの際に翌年支給された一人あたり1万2000円を上回る額を検討しているということです。
Jul 15
Japan is planning to start letting foreign residents who left the country before April 3 back in, starting in August.
(Nikkei)
Jul 15
People in Tokyo are watching with wary eyes as the latest daily case numbers hover in the mid-100s after topping 200 four days in a row through Sunday.
(NHK)
Jul 15
Torrential rain has devastated parts of Japan. In the western region of Chugoku, thousands of people have been ordered to evacuate after a major river burst its banks. Officials are having a tough time helping the survivors while maintaining anti-COVID measures.
(NHK)
Jul 15
A panel under the justice minister proposed Tuesday establishing criminal penalties for foreign nationals who do not comply with deportation orders as Japan seeks to curb long-term detention of foreigners at immigration facilities.
(Japan Times)
Jul 15
Japan's government is considering whether to request business closures for nightlife establishments that fail to follow its guidelines to prevent the spread of the coronavirus.
(NHK)
Jul 15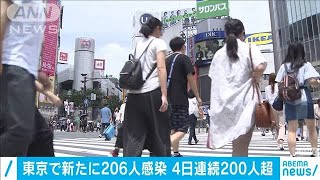 An advisory panel of experts to Japan's health ministry warns that coronavirus infections are continuing to spread throughout the country.
(NHK)
Jul 14
Japanese Prime Minister Abe Shinzo says the government will compile a financial package of more than 3.7 billion dollars to help regions in the southwest and elsewhere left battered by record rainfall.
(NHK)
Jul 14
A fireball that brightened the Tokyo sky earlier this month has been identified as a meteor after fragments were found in a neighboring prefecture, a national science museum said Monday.
(Japan Times)
Jul 14
Heavy rains in the northern part of Japan's Kyushu island are threatening the territory with landslides and flooding.
(NHK)
Jul 13
The new coronavirus infection count has been rising across the nation with more than 200 cases reported in Tokyo on Sunday.
(NHK)
---