On March 3, in response to the yearlong #KuToo protest against employers forcing working women to follow impractical dress codes, like mandatory high heels, Prime Minister Shinzo Abe said that this should not be allowed.
But he added that it was difficult for the government to make a final decision since private companies had their own rules on the high heels policy. It would require further discussion with all the parties involved.
Sound familiar? Abe hedging his bets here mirrors a problem as uncomfortable as a tightfitting stiletto: a final decision on whether to hold the Tokyo 2020 Olympic Games.
Given the spread of the coronavirus and reactive global lockdowns, it is not now a matter of if the Olympics will be canceled but when. Abe needs to get ahead of the situation by announcing the cancellation, or risk dawdling further and diminishing Japan's immense soft power.
Abe has been dodging making a decision while waiting for the World Health Organization or the International Olympic Committee to give him cover to cancel. But the WHO has had its agenda full since naming COVID-19 a global pandemic on March 11. Worrying about whether or not Japan should host the Olympics is likely not high on its triage list of priorities.
The pandemic announcement was the perfect time for Japan's government to let word filter out that holding the Olympics in 2020 was in jeopardy. But Abe let the chance to signal leadership and national sacrifice quickly pass.
In its place came Olympic minister Seiko Hashimoto saying that the International Olympic Committee and Japanese organizers are "not considering cancellation or a postponement, absolutely not at all."
Japanese public opinion has run past Abe: a Kyodo poll released on March 16 said 69.9% of those surveyed did not expect the Tokyo Olympic and Paralympic Games to be held as scheduled.
The rest of the world does not exactly look like it is concerned about the Olympics either.
On March 17, Japan's top ally and Abe's friend, President Donald Trump, told people not to gather in groups of more than 10, while U.S. cities and states have forced restaurants, bars and theaters to shut. Residents of one of America's most beloved cities, San Francisco, were told to "shelter in place."
Spain's 47 million citizens are on nationwide lockdown under orders of Prime Minister Pedro Sanchez, prompting the head of the Olympic Committee in Spain to call for the Olympics' postponement. French President Emmanuel Macron announced a similar measure, along with a mobilization of 100,000 police to enforce the restricted movement.
Japan's response to this united declaration of war on a virus and this violent altering of lifestyle? It held another news conference on Tokyo 2020 preparation buoyed by an IOC commitment to go forward.
Should Japan delay too much longer, it will create confusion and propagate a message that Japan thinks it is the exception to the new global rules of self-sacrifice and social isolation. It cannot keep planning a sports competition while top Olympic countries like China, the U.S., Italy, Spain, France and the U.K. have made staying at home the norm.
How Abe handles the final decision and announcement and its cascading consequences will reflect on Japan's leadership in future global matters and its preeminent soft power.
Apr 02
Japan's Prime Minister Abe Shinzo has announced a plan to provide cloth masks to households across the country to deal with a continued shortage of face masks.
(NHK)
Apr 01
Prime Minister Abe Shinzo says Japan has yet to reach a point where a declaration of a state of emergency is necessary to contain the coronavirus pandemic.
(NHK)
Mar 29
Prime Minister Shinzo Abe gave the nation a dire warning Saturday that it could see its hospitals overwhelmed and the death toll skyrocket if the coronavirus gets out of control, but pledged to draw up an economic relief package even bigger than the one used to sustain the economy during the 2008 global financial crisis.
(Japan Times)
Mar 28
Japanese Prime Minister Shinzo Abe has dismissed criticism of his wife attending a gathering to view cherry blossoms at a time when such a meeting is not recommended because of the threat of the coronavirus.
(NHK)
Mar 28
Prime Minister Shinzo Abe has warned that Japan's economy would be hard hit if Tokyo is locked down due to the coronavirus.
(NHK)
Mar 28
The health ministry said Friday 92 passengers and crew members aboard a flight from Chicago to Narita airport near Tokyo were allowed to enter Japan without being asked to self-isolate for 14 days and refrain from using public transport.
(Japan Today)
Mar 27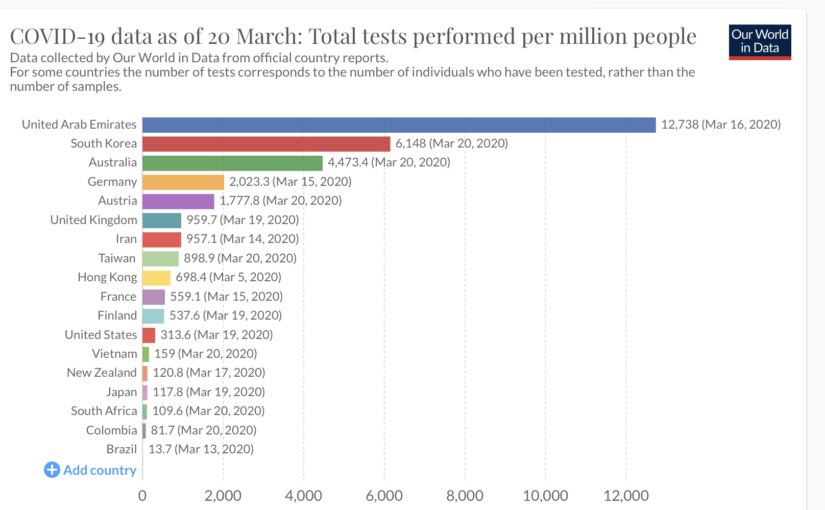 Germany has decided that saving lives is more important than saving face. In a rather undiplomatic letter to German citizens in Japan posted on the Embassy Of Germany's web site on March 24, the embassy did not mince words in discussing Japan's poor handling of coronavirus testing. It warns that we should assume there are a high number of unreported carriers.
(japansubculture.com)
Mar 27
On Wednesday night, Tokyo Governor Yuriko Koike asked residents of Japan's capital to remain home as much as possible over the coming weekend in order to minimize the spread of the coronavirus. Now, one day after Tokyoites were told to stay in their homes, people in all four of its neighboring prefectures are being told to stay out of the city.
(soranews24.com)
Mar 26
Tokyo governor is calling on residents in the city to stay home this coming weekend unless they absolutely need to go out.
(NHK)
Mar 24
Prime Minister Shinzo Abe and International Olympic Committee President Thomas Bach agreed Tuesday to postpone this summer's Tokyo Olympics for one year due to the coronavirus pandemic, the Japanese leader said.
(NHK)
---