A man at the center of a high-profile child abuse case was sentenced to 16 years in prison Thursday for causing the death of his 10-year-old daughter.
Yuichiro Kurihara, 42, deprived his daughter Mia of sleep and nutrition at their family home in Noda, Chiba Prefecture, leading to her death in January last year, according to the ruling.
Prosecutors had demanded an 18-year prison term for Kurihara.
The father, dressed in a black suit and blue necktie, expressed no emotion as he bowed to the presiding judge and the prosecutors after the ruling was handed down.
During hearings at the Chiba District Court, Kurihara admitted to assaulting Mia but denied other charges leveled against him.
However, the court found him guilty on all charges of fatal child abuse during Thursday's ruling, calling the father's testimony "unreliable."
The father was indicted in March after the girl was found dead in the bathroom of their home on Jan. 24.
He forced her to stand in the bathroom while showering cold water on her between Jan. 22 and 24, according to the indictment.
A video on Kurhihara's cell phone showed Mia being forced to do stretching exercises repeatedly and begging for help as he continuously reproached her.
Kurihara had also faced charges of physically abusing his daughter from December 2018 to January 2019 and beating his 33-year-old wife, Nagisa.
His wife was sentenced last June to 30 months in prison, suspended for five years with probation, for being complicit in her husband's treatment of Mia.
千葉県野田市で栗原心愛さん(当時10)が虐待され死亡した事件で、千葉地裁は19日、父親の勇一郎被告(42)に懲役16年の判決を言い渡した。これまでの裁判で、勇一郎被告は暴力行為のほとんどについて「心愛が嘘をついている」などと主張してきた。しかし、千葉地裁は「被告人の供述は到底信用できない。自己の責任を心愛や母親に転嫁し、およそ自らの罪に向き合っているとはいえない」とした。さらに「支配の対象は母親も同様であり、これが心愛から唯一にして最後の救いをも奪った」と指摘した。裁判を傍聴し続けてきた千葉大学大学院の後藤弘子教授は「彼の価値観だけが、唯一正しいという風に思っている状況を一つずつ変えていって、社会の価値観に合わせていかないといけない。判決が出たから終わりではなくて、これからが出発点」と語った。
Jul 15
Japan is planning to start letting foreign residents who left the country before April 3 back in, starting in August.
(Nikkei)
Jul 15
People in Tokyo are watching with wary eyes as the latest daily case numbers hover in the mid-100s after topping 200 four days in a row through Sunday.
(NHK)
Jul 15
Torrential rain has devastated parts of Japan. In the western region of Chugoku, thousands of people have been ordered to evacuate after a major river burst its banks. Officials are having a tough time helping the survivors while maintaining anti-COVID measures.
(NHK)
Jul 15
A panel under the justice minister proposed Tuesday establishing criminal penalties for foreign nationals who do not comply with deportation orders as Japan seeks to curb long-term detention of foreigners at immigration facilities.
(Japan Times)
Jul 15
Japan's government is considering whether to request business closures for nightlife establishments that fail to follow its guidelines to prevent the spread of the coronavirus.
(NHK)
Jul 15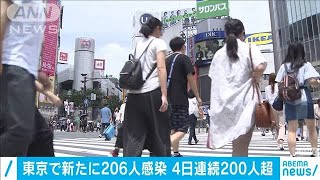 An advisory panel of experts to Japan's health ministry warns that coronavirus infections are continuing to spread throughout the country.
(NHK)
Jul 14
Japanese Prime Minister Abe Shinzo says the government will compile a financial package of more than 3.7 billion dollars to help regions in the southwest and elsewhere left battered by record rainfall.
(NHK)
Jul 14
A fireball that brightened the Tokyo sky earlier this month has been identified as a meteor after fragments were found in a neighboring prefecture, a national science museum said Monday.
(Japan Times)
Jul 14
Heavy rains in the northern part of Japan's Kyushu island are threatening the territory with landslides and flooding.
(NHK)
Jul 13
The new coronavirus infection count has been rising across the nation with more than 200 cases reported in Tokyo on Sunday.
(NHK)
---