The quarantine station at Narita airport has been temporarily closed, as one of the airport workers accidentally dropped a glass tube containing a coronavirus reagent. Reports say that the worker dropped the tube earlier this month, contaminating the whole room.
Members of staff who had been working in the room were all tested for the coronavirus, and two of them appeared to test positive. But on further investigation, it was discovered that they were in fact not infected, but the reagent had just got stuck to the inside of their nose, and they were discharged from hospital. While you can't actually catch the coronavirus from reagents, people who have come into contact with them may appear to test positive, so the quarantine station has been shut down to avoid any more inaccurate test results.
The Ministry of Health, Labour and Welfare commented "We are in the process of removing the reagents. We will work to improve our safety management in the future."
成田空港の検疫所で新型コロナウイルスの検査試薬が入った容器が破損して検査室が汚染されたため、検査ができない状態になっていることが分かりました。  厚生労働省によりますと、成田空港の検疫所で11日に新型コロナウイルスの感染を調べるPCR検査をしていたところ、職員が試薬の入った容器を誤って床に落として破損しました。陽性の場合に反応する試薬が室内に漏れて正確な検査ができない状態になったため、成田空港の検疫所は現在、検査を停止して消毒作業が行われています。復旧のめどは立っておらず、国立感染症研究所や他の検疫所で検査をカバーしているということです。また、当時、作業をしていた職員7人のうち2人に試薬が付着しましたが、感染はしませんでした。
Jul 15
Japan is planning to start letting foreign residents who left the country before April 3 back in, starting in August.
(Nikkei)
Jul 15
People in Tokyo are watching with wary eyes as the latest daily case numbers hover in the mid-100s after topping 200 four days in a row through Sunday.
(NHK)
Jul 15
Torrential rain has devastated parts of Japan. In the western region of Chugoku, thousands of people have been ordered to evacuate after a major river burst its banks. Officials are having a tough time helping the survivors while maintaining anti-COVID measures.
(NHK)
Jul 15
A panel under the justice minister proposed Tuesday establishing criminal penalties for foreign nationals who do not comply with deportation orders as Japan seeks to curb long-term detention of foreigners at immigration facilities.
(Japan Times)
Jul 15
Japan's government is considering whether to request business closures for nightlife establishments that fail to follow its guidelines to prevent the spread of the coronavirus.
(NHK)
Jul 15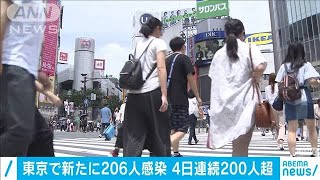 An advisory panel of experts to Japan's health ministry warns that coronavirus infections are continuing to spread throughout the country.
(NHK)
Jul 14
Japanese Prime Minister Abe Shinzo says the government will compile a financial package of more than 3.7 billion dollars to help regions in the southwest and elsewhere left battered by record rainfall.
(NHK)
Jul 14
A fireball that brightened the Tokyo sky earlier this month has been identified as a meteor after fragments were found in a neighboring prefecture, a national science museum said Monday.
(Japan Times)
Jul 14
Heavy rains in the northern part of Japan's Kyushu island are threatening the territory with landslides and flooding.
(NHK)
Jul 13
The new coronavirus infection count has been rising across the nation with more than 200 cases reported in Tokyo on Sunday.
(NHK)
---