NHK has learned that Tokyo Tower will reopen from Thursday, although most visitors will have to take the stairs instead of elevators to access the observation deck.
The measure is to prevent the spread of the coronavirus.
Tokyo Tower, an iconic landmark in the capital, has been closed since April 8.
Staff will ask visitors to take the stairs, consisting of about 600 steps, to reach the 150-meter-high observation deck, located about halfway up the tower.
Only the elderly and people with disabilities will be able to use the elevators, and the number of people will be limited to five per ride.
Visitors will also have to maintain social distancing. The observation deck will feature position markers at two-meter intervals.
The tower will be open from 9 a.m. to 9 p.m., closing two hours earlier than normal.
An official says the tower's operator hopes visitors will feel safe while experiencing a famous symbol of Tokyo.
東京タワーが展望台の営業を再開しました。休業中に接客などの研修を重ねてきた新人スタッフもようやくデビューの日を迎えました。  営業開始前から並ぶ人たち。28日午前9時から展望台の営業が再開しました。フェィスシールドを着けた係員が客を出迎えます。ひと月に1回は来る30代の男性。展望台まで階段で行くのは初めてだそうです。カラッとした晴れの天気となった東京。約600段の階段を男性は15分かけて到着しました。展望台から見る東京の景色。  感染対策を取りながらの再開。エレベーターは一度に乗り込む人数を4人までとしました。緊急事態宣言を受けて先月8日から休業していた東京タワー。休業期間中、新入社員は先輩社員に教わりながら再開に向けて準備をしてきました。そして28日にデビューの日を迎えました。これからエレベーターガールやお客様の案内など様々な業務を経験していきます。
Jul 09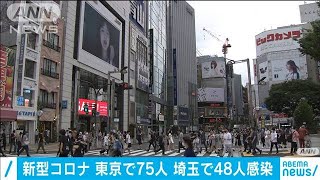 Japanese authorities reported Wednesday that 157 more people have been infected with the coronavirus.
(NHK)
Jul 09
Pounding rain that already caused deadly floods in southern Japan was moving northeast Wednesday, battering large areas of Japan's main island, swelling more rivers, triggering mudslides and destroying houses and roads. At least 58 people have died in several days of flooding.
(Japan Today)
Jul 09
Struggling businesses and other clients have left Japanese banks with record outstanding loans for a third straight month.
(NHK)
Jul 09
Carlos Ghosn, the former Nissan Motor Co chairman, wired $862,500 last year to a company managed by one of the two men who later helped him escape from Japan, U.S. prosecutors said in a Tuesday court filing.
(Japan Today)
Jul 08
In a move that will affect Japanese studying in the U.S., the government there said Monday that international students attending American universities will have to depart the country or transition to another college if their classes are moved entirely online for the fall semester amid the coronavirus pandemic.
(Japan Times)
Jul 08
Japan's labor ministry says over 32,000 workers have been discharged by their employers or faced contract nonrenewal amid the coronavirus pandemic.
(NHK)
Jul 07
Japan will relax its coronavirus-induced rules on holding big events from Friday as planned, boosting the maximum number of people allowed at an indoor venue to 5,000, a minister said Monday.
(Kyodo)
Jul 07
Infectious disease experts are feeling a sense of distrust with Prime Minister Shinzo Abe's response to the COVID-19 epidemic, amid signs that the disease is beginning to spread again.
(Japan Times)
Jul 07
The head of the Fukui Prefectural Police in central Japan received a traffic ticket for making an illegal right turn while off duty in May, the police said Monday.
(Kyodo)
Jul 06
Tokyo Governor Koike Yuriko has won a second term after Sunday's voting. Koike laid out what she wants to accomplish over the coming years. She said her most urgent priority is fighting the coronavirus.
(NHK)
---