Japan's government is asking people to continue taking preventative measures against the coronavirus after a renewed surge in cases in the southwestern city of Kitakyushu.
Officials there confirmed 12 new infections on Sunday, bringing the total number of coronavirus cases to 97 over the past nine days.
Economic Revitalization Minister Nishimura Yasutoshi, who is in charge of the coronavirus response, told reporters on Sunday that the government is not considering re-declaring a state of emergency as infection routes have been identified.
But he said a sense of crisis remains as the number of infections has risen significantly.
Government officials say there is also the risk of a resurgence of cases in other areas. They are urging people to continue taking preventative measures, such as maintaining social distancing and wearing masks when resuming social and business activities.
Even if infections occur, the government plans to contain them by enhancing the testing system to quickly detect those who have been infected. It also plans to identify those who have had close contact with infected people.
The government says that from Monday it will not ask people to refrain from traveling across prefectural borders, except for Tokyo and its surrounding three prefectures, as well as Hokkaido.
But officials are calling on people in Fukuoka Prefecture and nearby Yamaguchi Prefecture to be cautious about traveling to Kitakyushu.
Jul 09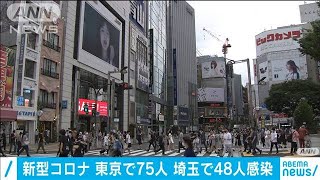 Japanese authorities reported Wednesday that 157 more people have been infected with the coronavirus.
(NHK)
Jul 09
Pounding rain that already caused deadly floods in southern Japan was moving northeast Wednesday, battering large areas of Japan's main island, swelling more rivers, triggering mudslides and destroying houses and roads. At least 58 people have died in several days of flooding.
(Japan Today)
Jul 09
Struggling businesses and other clients have left Japanese banks with record outstanding loans for a third straight month.
(NHK)
Jul 09
Carlos Ghosn, the former Nissan Motor Co chairman, wired $862,500 last year to a company managed by one of the two men who later helped him escape from Japan, U.S. prosecutors said in a Tuesday court filing.
(Japan Today)
Jul 08
In a move that will affect Japanese studying in the U.S., the government there said Monday that international students attending American universities will have to depart the country or transition to another college if their classes are moved entirely online for the fall semester amid the coronavirus pandemic.
(Japan Times)
Jul 08
Japan's labor ministry says over 32,000 workers have been discharged by their employers or faced contract nonrenewal amid the coronavirus pandemic.
(NHK)
Jul 07
Japan will relax its coronavirus-induced rules on holding big events from Friday as planned, boosting the maximum number of people allowed at an indoor venue to 5,000, a minister said Monday.
(Kyodo)
Jul 07
Infectious disease experts are feeling a sense of distrust with Prime Minister Shinzo Abe's response to the COVID-19 epidemic, amid signs that the disease is beginning to spread again.
(Japan Times)
Jul 07
The head of the Fukui Prefectural Police in central Japan received a traffic ticket for making an illegal right turn while off duty in May, the police said Monday.
(Kyodo)
Jul 06
Tokyo Governor Koike Yuriko has won a second term after Sunday's voting. Koike laid out what she wants to accomplish over the coming years. She said her most urgent priority is fighting the coronavirus.
(NHK)
---