Officials in Tokyo have issued an alert after confirming the highest daily tally of coronavirus infections in weeks.
The governor says it's a way of urging residents to remain cautious -- but does not alter the plan to gradually reopen the economy.
Officials reported 34 new infections in the capital on Tuesday. It's the first time the number has topped 30 in more than three weeks. Nearly 5,300 people have tested positive so far in the city of about 14 million.
The increase comes one week after the central government lifted the state of emergency for the Tokyo metropolitan area.
That prompted the Tokyo government to begin easing requests that saw many businesses close.
Officials have since been monitoring the situation and say it's worsening.
Governor Koike Yuriko said:" We want to continue resuming social and economic activities while preventing the spread of COVID-19. We'll need cooperation from all residents. "
Officials are particularly concerned about infections at bars and night clubs. About a third of the 90 cases confirmed in Tokyo over the past week have been linked to these kinds of establishments.
The businesses pose a problem for people in charge of tracing infection routes because employees have contact with so many strangers.
Jul 09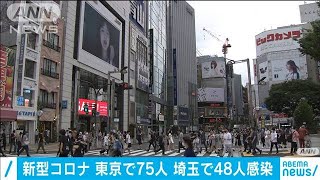 Japanese authorities reported Wednesday that 157 more people have been infected with the coronavirus.
(NHK)
Jul 09
Pounding rain that already caused deadly floods in southern Japan was moving northeast Wednesday, battering large areas of Japan's main island, swelling more rivers, triggering mudslides and destroying houses and roads. At least 58 people have died in several days of flooding.
(Japan Today)
Jul 09
Struggling businesses and other clients have left Japanese banks with record outstanding loans for a third straight month.
(NHK)
Jul 09
Carlos Ghosn, the former Nissan Motor Co chairman, wired $862,500 last year to a company managed by one of the two men who later helped him escape from Japan, U.S. prosecutors said in a Tuesday court filing.
(Japan Today)
Jul 09
Tokyo Metropolitan Police have arrested a 24-year-old woman for allegedly leaving her 3-year-old daughter alone at their residence for more than one week, resulting in her death, reports NHK (July 8).
(tokyoreporter.com)
Jul 09
About a third of parents in Japan postponed vaccinating their children during the coronavirus pandemic amid fears of catching an infection, a survey by a nonprofit organization showed Monday.
(Japan Today)
Jul 09
Tokyo Metropolitan Police have arrested three persons, including a student at Joshibi College of Art and Design, over the alleged spraying of graffiti in Shibuya Ward, reports Fuji News Network (July 8).
(tokyoreporter.com)
Jul 09
A police officer fatally shot himself in Chiyoda Ward early Wednesday in an apparent suicide, police said, reports NHK (July 8).
(tokyoreporter.com)
Jul 09
Popular rapper Kan a.k.a. Gami, who is out on bail after being accused of possessing marijuana earlier this year, has been arrested again for the same crime, police said, reports Sports Nippon (July 7).
(tokyoreporter.com)
Jul 08
In southwestern Japan, emergency crews are searching for survivors and assessing the damage after days of torrential rain.
(NHK)
---