A hearing at a Tokyo court was suspended for hours on Tuesday after defense lawyers refused to wear face masks.
The incident happened at a murder trial in session at the Tokyo District Court. Officials had installed clear partitions and other preventative measures for COVID-19 so lay judges would feel safe while taking part in trials.
However, the hearing was suspended after two defense lawyers refused to wear face masks.
They argued that they would not be able to fully convey their case to the lay judges with their faces covered. They also said they were in good health and would not come close to the judges.
The hearing resumed two hours later after another set of partitions were installed between the defense team and the lay judges.
Officials at the district court say they are asking all people appearing in court to wear face masks. The presiding judge expressed regret over the lawyers' refusal to comply.
Lay judge trials at the court had been suspended for three months due to the coronavirus outbreak.
Tuesday's hearing was held after a state of emergency for the capital was lifted Monday last week.
新型コロナウイルスの影響で延期が続いていた裁判員裁判が、東京地裁で感染防止対策を取りながら約3カ月ぶりに再開しました。  東京地裁では2日午前11時から緊急事態宣言の解除後、初めての裁判員裁判の初公判が開かれました。感染防止のため、最も広い法廷を使って傍聴人の間隔を空け、裁判員の間には透明のアクリル板を設置するなどの対策が取られています。東京地裁では新型コロナウイルスの影響でこれまで延べ34件の期日が延期されてきましたが、約3カ月ぶりの再開となりました。法廷では被告の弁護人がマスクを着用せず、審理が中断するなどしています。
Jul 09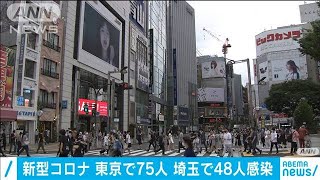 Japanese authorities reported Wednesday that 157 more people have been infected with the coronavirus.
(NHK)
Jul 09
Pounding rain that already caused deadly floods in southern Japan was moving northeast Wednesday, battering large areas of Japan's main island, swelling more rivers, triggering mudslides and destroying houses and roads. At least 58 people have died in several days of flooding.
(Japan Today)
Jul 09
Struggling businesses and other clients have left Japanese banks with record outstanding loans for a third straight month.
(NHK)
Jul 09
Carlos Ghosn, the former Nissan Motor Co chairman, wired $862,500 last year to a company managed by one of the two men who later helped him escape from Japan, U.S. prosecutors said in a Tuesday court filing.
(Japan Today)
Jul 08
In a move that will affect Japanese studying in the U.S., the government there said Monday that international students attending American universities will have to depart the country or transition to another college if their classes are moved entirely online for the fall semester amid the coronavirus pandemic.
(Japan Times)
Jul 08
Japan's labor ministry says over 32,000 workers have been discharged by their employers or faced contract nonrenewal amid the coronavirus pandemic.
(NHK)
Jul 07
Japan will relax its coronavirus-induced rules on holding big events from Friday as planned, boosting the maximum number of people allowed at an indoor venue to 5,000, a minister said Monday.
(Kyodo)
Jul 07
Infectious disease experts are feeling a sense of distrust with Prime Minister Shinzo Abe's response to the COVID-19 epidemic, amid signs that the disease is beginning to spread again.
(Japan Times)
Jul 07
The head of the Fukui Prefectural Police in central Japan received a traffic ticket for making an illegal right turn while off duty in May, the police said Monday.
(Kyodo)
Jul 06
Tokyo Governor Koike Yuriko has won a second term after Sunday's voting. Koike laid out what she wants to accomplish over the coming years. She said her most urgent priority is fighting the coronavirus.
(NHK)
---